Plastic Bag Free Day 2016 Round-up
The 7th Annual Plastic Bag Free Day 2016 took place on July 3rd, seeing hundreds of actions take place around the world.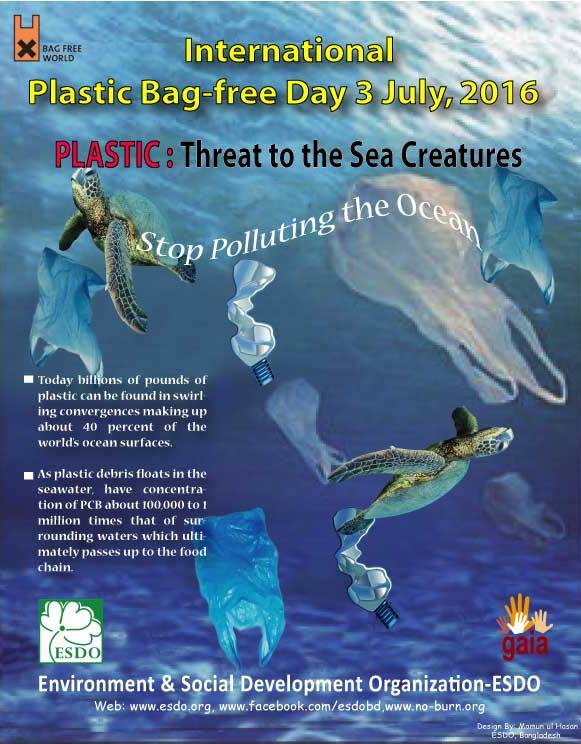 With scores of organisations and hundreds of citizens taking part in events and awareness raising activities highlighting the environmental impact and hazards of single-use plastic bags.
A joint statement was released by a coalition of organisations including Fundació Prevenció de Residus, Surfrider Foundation Europe, Zero Waste Europe and others calling for the European Member States to take the final step and ban the use of plastic bags, replacing single use options with more sustainable and reusable alternatives.
In Slovenia, campaigners from Ekologi brez meja (Ecologists Without Borders), dressed up in plastic bags taking the form of a dreaded monster 'bagfoot' a 'living humanoid reminder of the countless bags we use each year' this monster then proceeded to interact with the citizens of Ljubljana.
This action strongly resembled the 8ft plastic monster that was unveiled, by the National Environment and Planning Agency (NEPA) in Jamaica.
In Nepal government ministers took the opportunity to announce the resumption of the plastic bag ban in the country. Citing poor monitoring for the failure of a previous ban they stated that there 'will be proper regulations this time'.
In Cape Town, South Africa the Two Oceans Aquarium offered an exchange of single-use plastic bags for reusable and sustainable shopping bags highlighting the possible alternatives for shoppers who want to avoid plastic bags, the action also served to emphasise the impact that plastic shopping bags have on ocean waste, causing significant problems for sealife.
France saw their previously passed ban on single-use plastic bags coming into force only two days before Plastic Bag Free Day marking a significant landmark in the campaign to eliminate these destructive items from everyday life.
In Kerala, India students gave eco-friendly cloth bags to State legislators with the ultimate aim of reducing plastic waste and providing 'smart alternatives for plastic-based necessities'.
In New Delhi Chintan organised an awareness campaign surveying residents on the plastics that they use, and looking into possible alternatives and solutions to the problems of plastic waste.
In Dhaka the Environment and Social Development Organisation (ESDO) launched electronic posters to raise awareness for the campaign.
These actions represent only a fraction of the total activities which took place around the world calling for a ban for the bag. Considerable progress has been made over the past year by many organisations and campaigners. However, with the recent revelations regarding the impact of ocean plastics on wildlife and human health the issue of plastic waste has rarely seemed more urgent. The success of Plastic Bag Free Day is central to raising awareness of this problem, and pushing for an effective ban on the non-compostable bag!These actions represent only a fraction of the total activities which took place around the world calling for a ban for the bag.