#WeChooseReuse
By Vanessa Matthews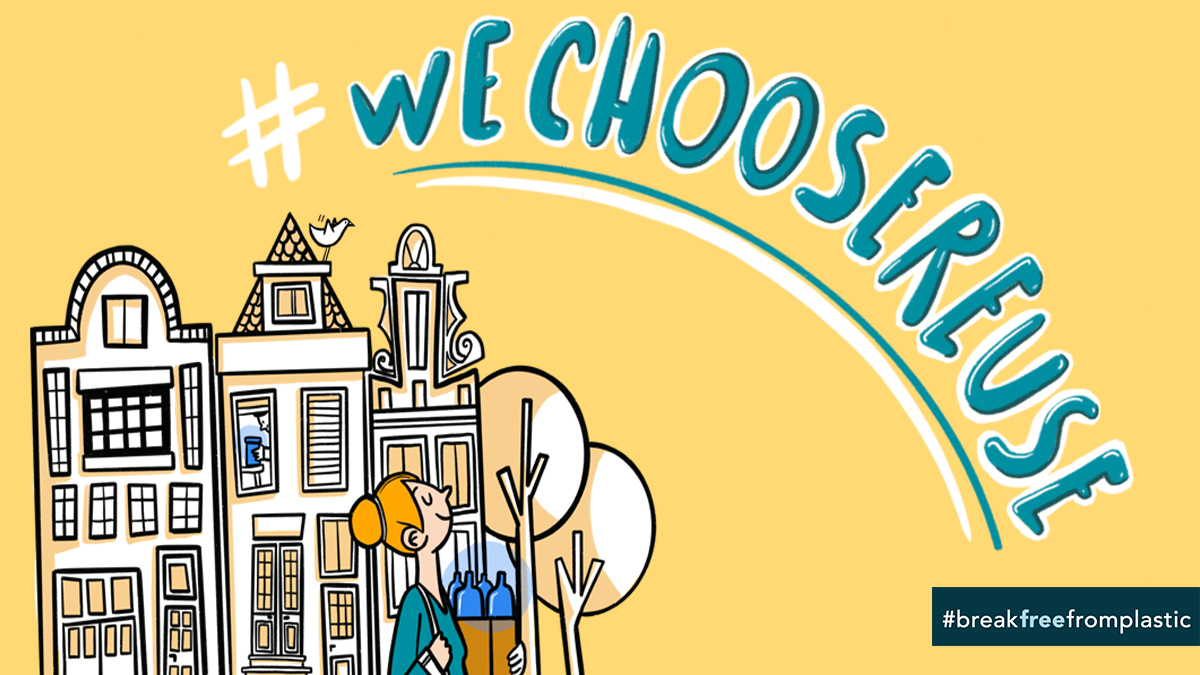 Why Choose Reuse
When something is reused, it means that the item does not become a source of pollution, from its production to its on-going use (avoiding it showing up in landfills, incinerators and waterways). Through reuse practices, we can foster circular redesign of materials and promote systems for reusability, reparability, and even transformation for alternative uses as mainstream options. To put it simply: by reusing, we are encouraging the development and consolidation of a truly circular system. 
But… What is possible for a reuse concept?
Fortunately, this is not a purely theoretical exercise – reusable systems are actually already in place in a number of countries and cities across Europe, cutting across several lifestyles and cultures. And reusable systems have even become the core of business creation, not only showing tangible results, but also proving to be truly accessible and adaptable to diverse and unique contexts across the globe. 
Best practice business examples across Europe
There are many inspiring reuse examples across the European continent that show the added value of reuse systems for citizens, organisations, and businesses alike.
The Depo store in the Slovenian municipality of Vrhnika developed a business model that offers plastic and packaging-free refills for cleaning products. 
The Italian cooperative Eta Beta developed the Lavanda Project, promoting washable nappies through a collection and washing service system. Details of both these inspiring business examples can be found in The State of Zero Waste Municipalities 2020 report.
When it comes to e-commerce waste, the Finnish company RePack has created a reusable packaging service with a seamless and convenient system for both businesses and consumers. 
With the COVID-19 pandemic and its subsequent lockdown measures resulting in an increase of restaurant take-away and delivery activities, this has meant a proportional increase of single-use food containers. While this is generally a bad outcome, it has allowed initiatives such as Recircle's Reboxes (Switzerland) to show that reusing is still possible in this unique context. Originally established in 2016, this deposit return scheme now caters to more than 1,360 restaurants across Switzerland and Germany, offering customers reusable take-away meal boxes. This business was, in turn, born as a consequence of the Refill campaign carried out by the municipality of Bern.
#WeChooseReuse needs you!
If you feel inspired by the examples above and want to get involved in expanding how businesses across Europe can commit to developing and implementing reuse habits and systems, the #WeChooseReuse campaign and its website are a great place to start. 
The campaign takes into account that different people can do different things at different levels to promote reuse habits and systems. For example, by encouraging municipalities, businesses, and communities to commit to reuse practices. To help facilitate sharing the #WeChooseReuse campaign, an online toolkit is made available with a library of resources such as a commitment letter template, social media images and texts, and videos of ideas on how to take action. There are also a number of business case studies available as a great source of evidence that reuse practices are the way to go and happening already.
#WeChooseReuse is here to support the transition to a zero waste circular economy. The more people joining, the better our voices will be heard by those with the power to change our current systems – can we count on you?
Here are a few related posts...