Meet our members – Friends of the Earth Cyprus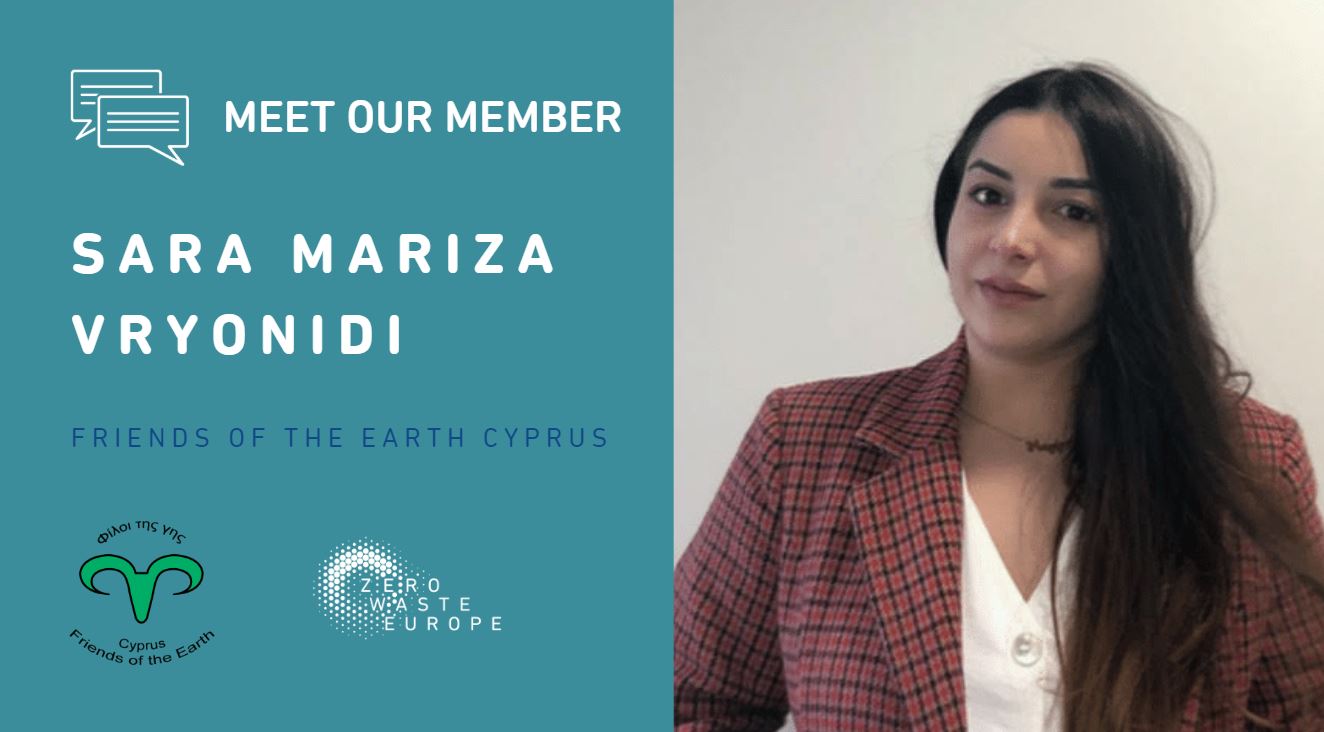 Zero Waste Europe is happy to introduce the blog series "Meet our members". Through this series of monthly interviews, we want to give you a chance to get to know our members and the work they are doing.
---
Meet Sara Mariza Vryonidi from Friends of the Earth Cyprus (FoE), Cyprus
Hi Sara Mariza, can you give us a brief introduction to Friends of the Earth Cyprus?
Friends of the Earth(FoE) Cyprus is one of the first non-profit, non-governmental, environmental organisations in Cyprus, launched in the early 80s in Limassol, by a group of passionate people motivated to fight for social and environmental justice. At the moment we have around 500 members and 3 people as part of the staff.
In 2015 we became a member of Zero Waste Europe and since then we have been organising and supporting a range of activities encouraging the implementation of the zero waste hierarchy in Cyprus. Starting from awareness raising activities though trainings in schools and participation in festivals organised by municipalities, to bigger campaigns, such as clean-ups and brand audits, as well as providing support and guidance to local businesses on how to implement zero waste business models.
How long have you been in the field and what got you into (Zero) Waste?
I have always been really conscious when it comes to the environment and especially waste. When my grandparents were sharing stories with me of how they used to buy their fruits and vegetables from the local market and how they would refill their glass milk bottles, I had in mind that these type of practices could solve some of the environmental problems that led us to a climate crisis today. 
After being a member and volunteer at FoE Cyprus, I decided to apply for an intern position on a project called "Stop the Plastic Flow" which aimed to map the problem of waste reaching the oceans, after being illegally dumped in the island. Since then, I realised the size of the waste management problem in Cyprus and wanted to contribute in a wider range of activities.
What is your current role in the organisation?
I currently volunteer as a communications' officer at FoE and will start working as a Project Coordinator on a project developed by Young Friends of the Earth Europe, on intersectionality and the Green New Deal.
Tell us more about one ongoing campaign/activity you're working on?
We are currently working on a campaign against building a new incinerator at one of our waste treatment plants. Trying to make our voice heard, we are organising a workshop in March where we will invite the relevant stakeholders to convince local authorities and citizens about alternatives and zero waste solutions that have worked well across Europe and could also work in Cyprus. 
Build a strong relationship with nature; you will realise it is worth fighting for it <3
If there was one thing that you would like your organisation to be known for, what would it be?
In a more general context, I would like everyone to know the values that FoE Cyprus embodies; social justice and equity, intersectionality and inclusiveness, collective action and solidarity. 
On a campaigns level, I would say a "Zero-Waste Carnival Parade" is our ultimate goal and a target we are currently working towards, as we collected 3 tonnes of rubbish after the carnival parade last year, which is probably a tiny amount compared to the total waste generated on that day.
How would you describe the growth of the Zero Waste movement in your country?
The average municipal waste production per capita per year (around 640kg) is far higher than the EU average at the moment (around 480kg) so, it is clear we are not even close to a zero-waste country.
Nevertheless, a zero waste lifestyle was subconsciously in practice many years ago, and now with the actual movement recently started; communities and businesses are introducing the term Zero-Waste and working towards implementing that. I am positive that with the movement becoming mainstream across the European Union, Cyprus will follow and behaviours will change.
You can find more about Friends of the Earth Cyprus, and their work here.