Meet our members – Amigos de la Tierra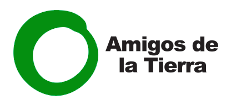 "We would like to be known for making fun activities, but also trying to change the model from the root."
Zero Waste Europe is happy to introduce the blog series "Meet our members". Through this series of monthly interviews we want to give you a chance to get to know our members and the work they are doing.
---
Meet Alodia Muñoz from Amigos de la Tierra
Hi Alodia, can you give us a brief introduction to Amigos de la Tierra's focus?
Amigos de la Tierra España was founded in 1979, almost 40 years ago. We are based in Madrid, and we work on a national level, with a network of local groups based in different regions. In the national office we are 8 people working, but I am the only one working in natural resources and waste. Of course, my communication and administration colleagues help me with the campaigns.
How long have you been in the field? And what got you into (zero) waste?
I started  working in the  field of waste in 2005, as a composting technician. Since then, I worked a lot on bio-waste, and later with obsolescence, deposit schemes, and different issues and laws, all of them related with household waste.  We work always under the zero waste paradigm, and when Zero Waste Europe was born, we wanted to be part of it, without doubts.
What is your current role in your organisation?
I am Natural Resources and Waste campaigner. I lead the Amigos de la Tierra campaigns related to bio-waste and compost, obsolescence, deposit schemes and  plastic among others. We work with people in communication and activism actions, and with the decision makers, through political lobby actions.
Tell us more about one ongoing campaign/activity you're working on?
Alargascencia is an anti-obsolescence campaign. We have built a map with more than 1.400 small business like second hand shops, repair workshops that work on making longer the life of products. Recently, we have launched #SeMerecenun10, asking for a reduced VAT for the reparation and second hand activities.
If there was one thing that you would like your organisation to be known for, what would it be?
We would like to be known for making fun activities, but also trying to change the model from the root. For example, our action during Black Friday 2017 was to built a tree of different products like electronics, textil, etc. in a city center square while organising Colour Sunday, when no shopping of no new products took place, but renting and second hand shopping was promoted.
How would you describe the growth of the Zero Waste movement in your country? What is your perspective for the future?
The zero waste movement in Spain is far from  being mainstream in this moment. There are some zero waste lifestyle movements, but we have a lot of work to do in order to change the model of waste generation and management in the country.
What is the key message of your organisation?
We work towards a local and global change for respect to the environment, and a fair and supportive society.
You can find more about Amigos de la Tierra and their work here.We work towards a local and global change for respect to the environment, and a fair and supportive society.