Climate and waste talks in Bonn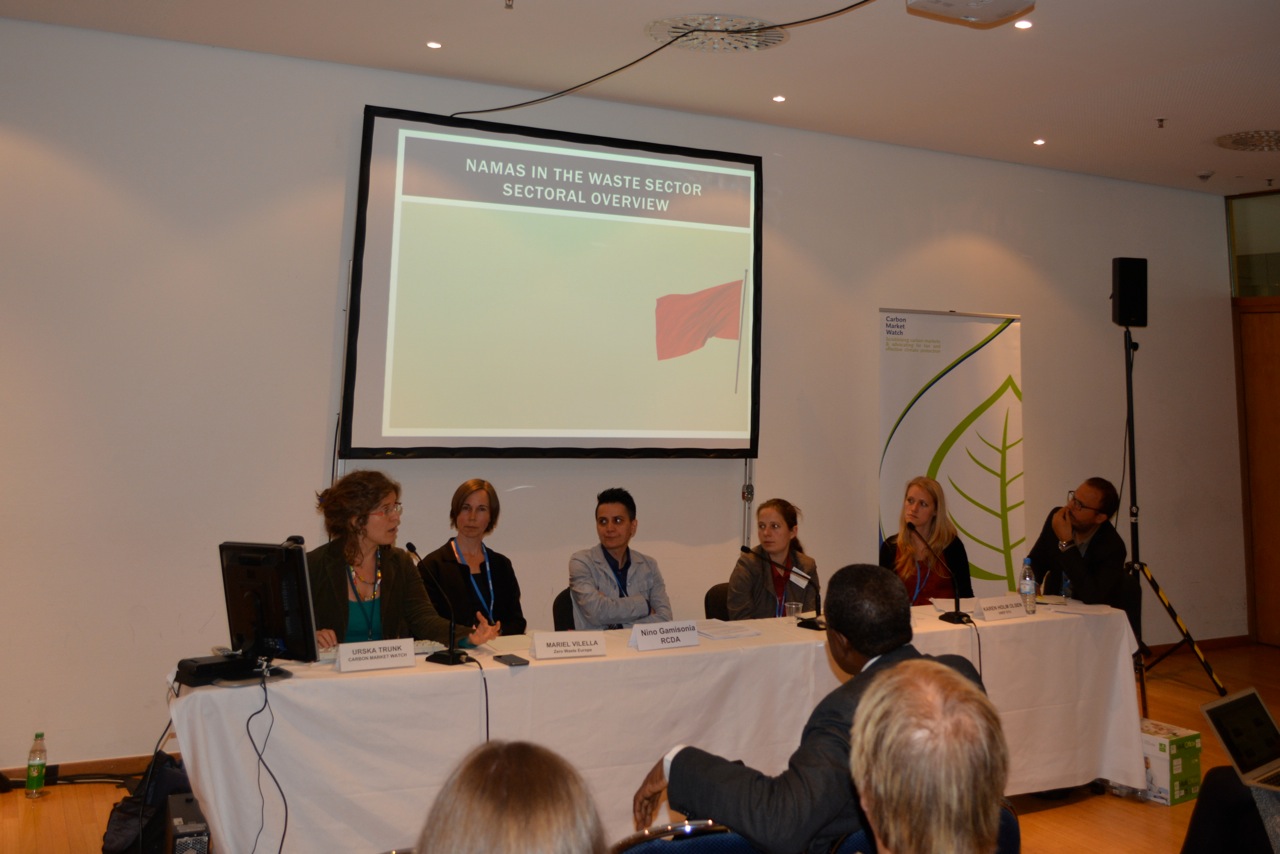 On the run-up to the COP in Paris, GAIA, Zero Waste Europe and Zero Waste France participated in the UNFCCC intersessional conference that took place on Bonn, June 3-11. The talks did not deliver significant progress on the deal that is expected to be shaped and agreed by the COP 21 in Paris in 6 months, but nevertheless it was a chance to raise important issues in regards to waste and climate finance.
Zero Waste Europe co-organized together with Carbon Market Watch a side-event on "Effective stakeholder engagement in NAMA development and implementation". Mariel Vilella, Zero Waste Europe's Associate Director, highlighted that the waste sector can make a major contribution to the reduction of GHG emissions and that NAMAs can be an effective policy tool to drive the appropriate investments. NAMAs is the abbreviation for Nationally Appropriate Mitigation Actions, which comprise GHG reductions projects in all sectors in all developing countries, as reported in the NAMA Database.
"At this point, thought, we see that the NAMAs in the waste sector do not have a vision for resource efficiency and circular economy" Vilella remarked. "Some NAMAs include incineration of used tires in cement plants as a climate strategy, which shows there is a lack of environmental criteria and vision for the sector". Burning of waste in cement plants has reportedly been a major concern for communities all over Europe and internationally.
"There are sustainable, toxic-free and resource-efficient ways to reduce GHG in the waste sector, that can also create jobs and stimulate local economies", Vilella highlighted in her presentation, in regards to several zero waste case studies that have shown major contributions to GHG reductions, both in the North and Global South.
Another important target in these negotiations is the Green Climate Fund, which is supposed to channel financial contributions from the developed countries to the Global South, following a commitment to support vulnerable communities to adapt to climate change and drive transformational change to reduce GHG emissions within principles of sustainable development.
Yet, it is unclear how exactly this will happen, if it may at all. On this regard, GAIA collaborated with Interamerican Association for Environmental Defense (AIDA), Institute for Policy Studies (IPS), Friends of the Earth US (FOE), Heinrich Böll Stiftung North America, and Jubilee South Asia/Pacific, on the side-event "Green Climate Fund: How can it support transformational change?".
This event looked at projects and programs that GCF should and should not support in developing countries, with a particular focus on the role of GCF in energy financing. Another crucial aspect was the role of GCF in ensuring effective multi-stakeholder participation at the national level and the actions that are needed to increase direct access to GCF resources.
The Bonn talks were a mid-term meeting on the way to the important conference in Paris this December, at which governments are hoping to sign a new global pact, to take effect from 2020, when current commitments from developed countries to limit their emissions are set to expire.