White Paper: 2040 vision for a sustainable future requires radical rethink on EU materials and waste policy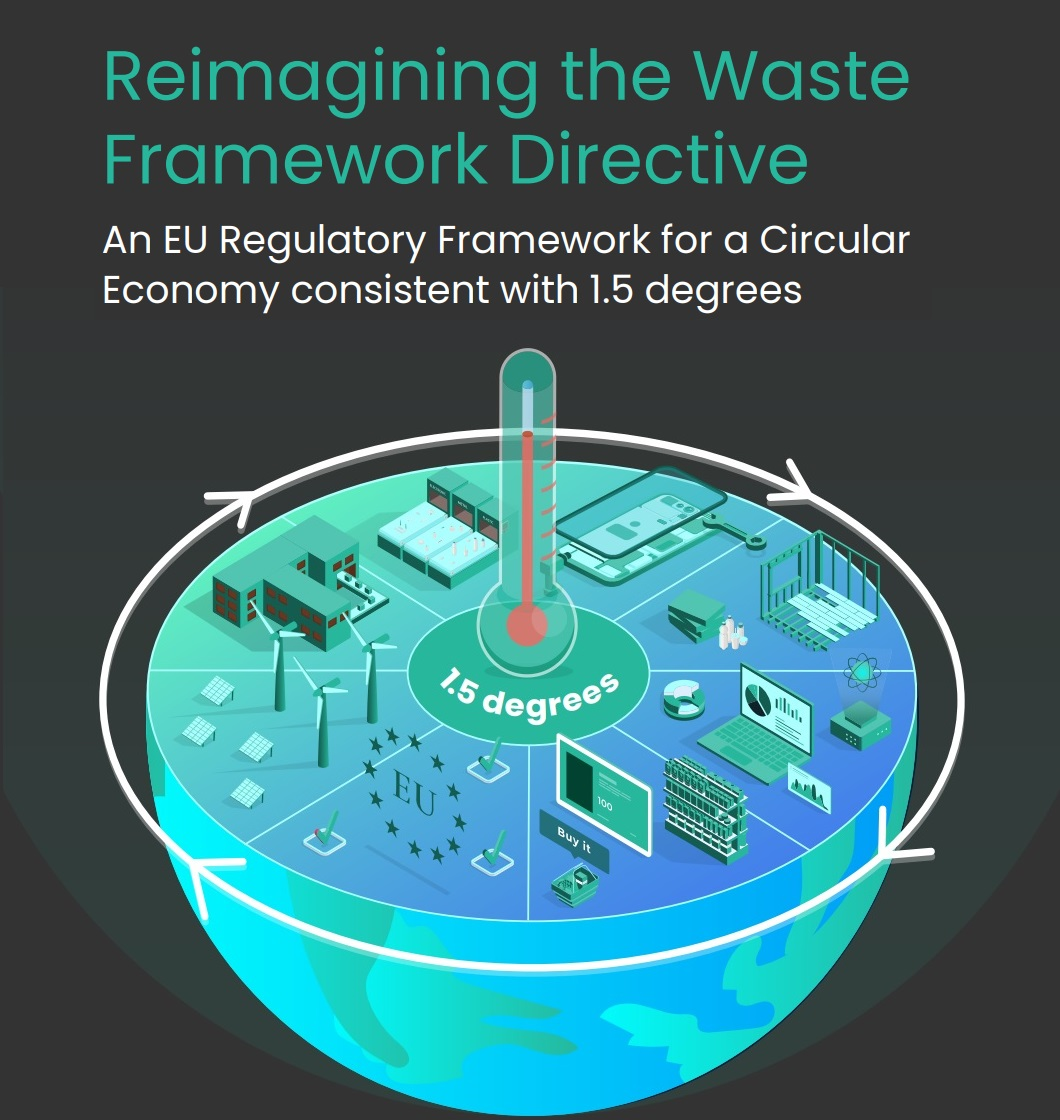 20 April 2023 
Rewiring our relationship with resources through the Waste Framework Directive (WFD) is vital for the EU to continue to innovate and lead the world in reaching a circular economy by 2040. 
These are the findings of a White Paper published today by Handelens Miljøfond, Minderoo Foundation, TOMRA, and Zero Waste Europe, which outlines the urgent steps required to ensure the union remains on track to creating a sustainable future for its citizens.
The White Paper, developed by Eunomia Research & Consulting, sets out a vision for 2040 where society will use materials and products more efficiently in an economy that is well on its way to circularity.
The upcoming revision of the Waste Framework Directive, which has guided EU policy in this area since 1975, offers the opportunity to design a coherent and consistent policy framework for a circular economy – however the scope of the revision is not currently sufficient to set the EU on the right course. 
Cecilie Lind, CEO of Handelens Miljøfond said: "This White Paper demonstrates the urgency of rethinking our approach to materials and waste policy in order to build a sustainable and circular economy by 2040, and the revision of the Waste Framework Directive is a critical step in achieving that goal."
A genuinely circular economy would mean much reduced extraction and use of virgin resources, with a focus on a service economy that keeps products and materials in circulation for as long as possible, making full use of digital technology, systems, and data to manage our use of materials and products.
The White Paper also presents an accompanying blueprint for a policy framework that will drive these changes effectively and at scale, harnessing the power of the single market to give businesses confidence to invest in the new business models necessary to deliver prosperity and profitability while reducing material consumption. 
Joan Marc Simon, Director-Founder of Zero Waste Europe, added: "It's imperative that the EU makes it easier and cheaper for citizens, businesses, and organisations to make the right choices. Unless we make EU policies fit for purpose we can't shift away from current inefficient linear take-make-waste economic models."
The White Paper proposes a short-term revision of the WFD (by 2026) to provide: 
Softer regulation for the reuse, repair, and remanufacturing of products as well as clarity for industry on the environmental performance required of reuse systems. 

Greater consistency in the scope and application of extended producer responsibility (EPR) and a more granular recycling hierarchy that characterises 'high quality' recycling.

A supportive environment for rapidly decarbonising the treatment and disposal of waste.
Ultimately the WFD would need to be transformed into a Resources Framework Directive by 2029 which would extend the scope and remit of the framework to include the reduction of resource consumption, introducing a materials application hierarchy to steer the use of different types of materials to maximise decarbonisation.
Dr Marcus Gover, who leads a team of scientists and policy experts at Minderoo Foundation, said: "In a circular economy, consumers will reap the benefits of higher-quality products that last longer while at the same time reducing the harmful impacts materials like plastics, especially microplastics in clothing and tyres, have on our environment." 
Wolfgang Ringel, Senior Vice President Group Public Affairs at TOMRA commented: "More needs to be done to encourage the proper collection, sorting, and recycling of valuable material that is simply thrown away. Implementing legally defined (in other words, mandatory) obligations covering the use of resources, and their responsible handling, is the way forward to ensure a sustainable future for society and our planet."
Dr Chris Sherrington, Head of Policy at Eunomia Research & Consulting concluded: "We are looking forward to engaging with stakeholders over the next six months on our ideas to help design a regulatory framework which can spur innovation and give businesses the confidence to invest, innovate and deliver the transition to a circular economy. We know these changes need to happen, it's best to act now and work together in an open, transparent, and collaborative fashion to determine the best way to do so."
ENDS 
---
Notes to Editors 
Copy of the White Paper (Reimagining the Waste Framework Directive) attached for embargoed media purposes which can be downloaded upon lift of embargo from https://www.eunomia.co.uk/reports-tools/ 
Media contacts 
Andrew Couch, PR & Social Media Manager at Eunomia [email protected]  
Further information
Half of all greenhouse gas emissions derive directly from things we consume. Greater efficiency in material use and an overall reduction in raw material consumption is therefore essential for limiting a global temperature increase to 1.5oC and mitigating the worst effects of climate change. 
The extraction and processing of raw materials is a key driver of pollution, habitat and biodiversity loss and water stress, so managing down our raw material demand will be vital to tackling broader environmental issues beyond greenhouse gas emissions.
---
About Eunomia Research and Consulting 
Eunomia is an independent sustainability consultancy driven by a genuine passion to make a positive change to the clients we work with and the communities they operate in.  
We are committed to finding solutions to better protect the planet, while supporting the wider aims and needs of our clients.  
As an established leading independent consultancy, clients can have complete confidence that consultants will offer evidence led solutions based on robust, impartial thinking that offer both pragmatic and positive outcomes. For more information about Eunomia, please visit www.eunomia.co.uk  
About Handelens Miljøfond (Norwegian Retailers' Environment Fund)
Handelens Miljøfond is Norway's largest private environmental fund, and Norway's most important measure for complying with the EU Plastic Bags Directive. The fund supports national and international projects that reduce plastic pollution, increase plastic recycling, and reduce the consumption of plastic bags.
About Minderoo Foundation
Minderoo Foundation is a modern philanthropic organisation seeking to break down barriers, innovate and drive positive, lasting change. We aim to create a world without plastic pollution – a truly circular plastics economy, where fossil fuels are no longer used to produce plastics. https://www.minderoo.org/
About Zero Waste Europe
Zero Waste Europe (ZWE) is the European network of communities, local leaders, experts, and change agents working towards the prevention and elimination of waste in our society. We advocate for sustainable systems; for the redesign of our relationship with resources; and for a global shift towards environmental justice, accelerating a just transition towards zero waste for the benefit of people and the planet. www.zerowasteeurope.eu 
About TOMRA
TOMRA was founded on an innovation in 1972 that began with the design, manufacturing and sale of reverse vending machines (RVMs) for automated collection of used beverage containers. Today TOMRA provides technology-led solutions that enable the circular economy with advances collection and sorting systems that optimize resource recovery and minimize waste in the food, recycling and mining industries and is committed to building a more sustainable future.
TOMRA has approximately 100,000 installations in over 8o markets worldwide and had total revenues of ~10.9 billion NOK in 2021. The Group employs ~4,600 globally and is publicly listed on the Oslo Stock Exchange. www.tomra.com