Meet our members – Special Edition – Meet our Membership Coordination Officer: Iveta Cadrova!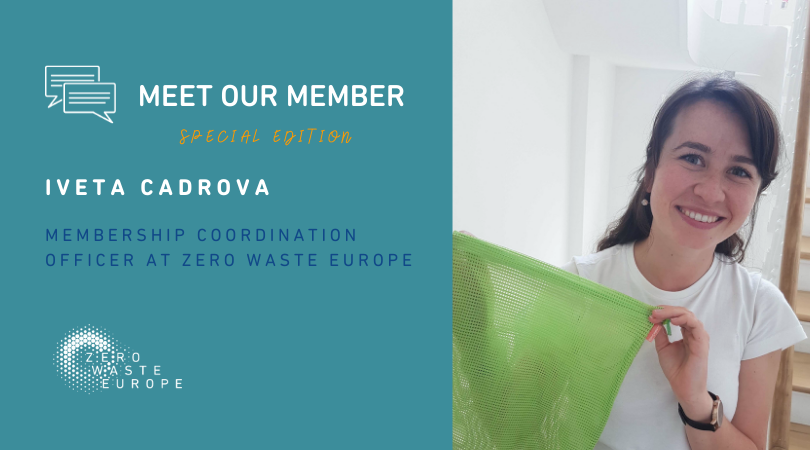 Zero Waste Europe is happy to introduce the blog series "Meet our members". Through this series of monthly interviews, we want to give you a chance to get to know our members and the work they are doing.
This month, for another special edition of our "Meet our members" series, we are thrilled to introduce you to our Membership Coordination Officer.
---
Meet Iveta Cadrova, Membership Coordination Officer at Zero Waste Europe
Hi Iveta, can you give us a brief introduction to yourself? How long have you been in the field? And actually, what got you into (zero) waste?
Sure! I have been working in the zero waste field for around 2,5 years now; however, I have been passionate about the subject for much longer! Before joining the team of Zero Waste Europe, I have been observing and admiring the ZWE work from afar, following all the webinars and reading all the reports. Then a position for a Membership coordination officer was published and I thought to myself: "this is for me"! I have a background as a translator and interpreter with focus on international relations, but I very quickly realised that my true passion lies in the protection of the environment, in particular prevention of waste.
What is your current role at Zero Waste Europe?
I find a lot of purpose in my work, because zero waste strategies can transform our society and have a great environmental and social impact. Zero Waste Europe is a network of 31 member organisations from all around Europe working together for a zero waste future. Our members implement zero waste strategies on a local level, and the ZWE team (myself included) supports those efforts. In a way, ZWE members are the feet on the ground, and the ZWE team are the eyes and ears in Brussels – connecting members to opportunities; building their capacity and expertise; providing space for strategic conversations and joint campaigns; and building members' leadership. My role as Membership coordination officer is to make sure that all this works and flows perfectly! Broadly speaking, I am in charge of network coordination and development. On a day-to-day basis, my job is to make sure that our current members have all they need; and are connected to each other, to the team, to the relevant task forces, experts, campaigns or opportunities. In addition to that, I manage the applications we receive from new organisations, onboard new organisations, and am in charge of organising the network moments such as Annual General Meetings and joint calls. What I particularly enjoy about this job is that I daily get to interact with dedicated and passionate environmentalists from all over Europe and beyond, and it brings me a lot of satisfaction when I am able to support them! 
Tell us more about ongoing projects or activities in the network?
Zero Waste Europe members are collaborating on several impactful joint campaigns. To name a few, we work on campaigns such as the Period Poverty Week, the Environmenstrual Week, or #WeChooseReuse. Several European countries and zero waste organisations get together in zero waste alliances (for instance, Zero Waste Germany was created very recently!) to have an even more positive impact on national or subregional levels. Zero Waste Europe members also work on building zero waste cities, and on anti-incineration and regulated waste trade activities.
If there was one thing that you would like your work to be known for, what would it be?
Zero Waste Europe is a special place, unlike any other environmental network that you find in Europe, and that is for several reasons. Firstly, Zero Waste Europe is the only European-wide network focusing on (zero) waste. Secondly, Zero Waste Europe is a part of the Global Alliance for Incinerator Alternatives (GAIA), through which we are connected to our colleagues across the globe working on the same topics, and which brings a lot of cross-pollination of ideas across regions. Last but not least, ZWE members work together in an atmosphere of trust and camaraderie – I would even go as far as to say that Zero Waste Europe is a family! 
How would you describe the growth of the zero waste movement in your country? What is your perspective for the future?
Generally speaking, in the last few years, the zero waste movement has come a long way. This of course depends on the country or region we are speaking about; but, all in all, zero waste is making its way in the world, though there is still a lot to do. The industry lobby keeps pushing their own interests, which is why networks like Zero Waste Europe are so crucial. These networks create space for impactful campaigns and cross-pollination of ideas; they scale up change and give the NGOs a stronger, united voice. In the long run, I see a bright future ahead, where zero waste is the norm and single-use has become obsolete, but some might say I am an idealist!
"ZWE members work together in an atmosphere of trust and camaraderie – I would even go as far as to say that Zero Waste Europe is a family! "