Why we need a Bloody Manifesto in Europe
By Larissa Copello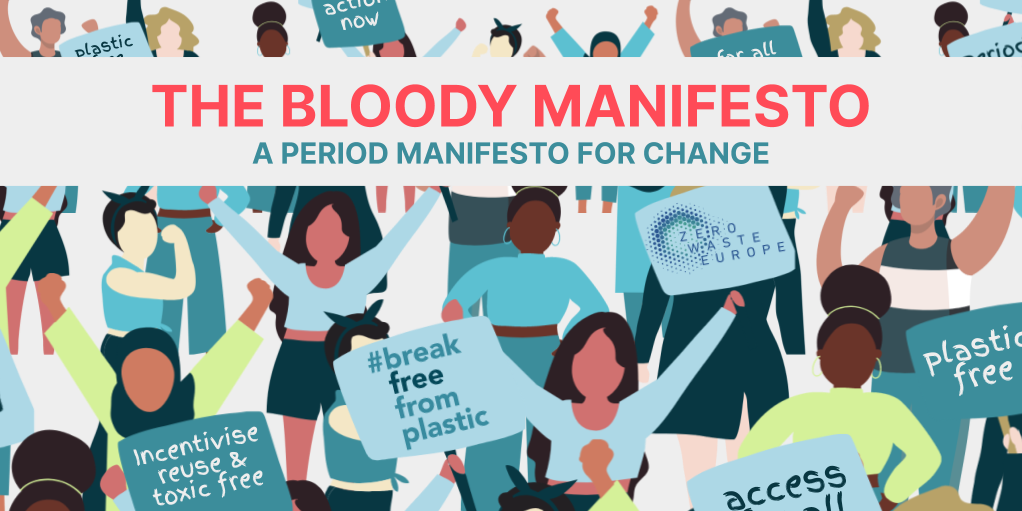 Nowadays, the vast majority of menstrual products being sold on the EU market (and globally) are single-use items: including pads, liners and tampons, which can lead to serious environmental, economic, health and social impacts from production to disposal and beyond.
In fact, the scale of the waste generated is arguably impressive. According to a recent European study in 2017, more than 49 billion units of single-use menstrual products were used in the 28 EU member states, generating a total of 590,000 tonnes of waste. This waste ends up in landfills (87%) or incinerators (13%), which wastes resources and generates negative impacts on the environment (i.e: the need for land resources, air, soil and groundwater pollution, CO2 emissions etc.).
Also, conventional single-use menstrual pads are usually made out of 90% plastic and contain hundreds of chemicals in their composition, which not only affect the environment, but also consumer's health. These items often contain fragrances and synthetic aromatizers that can carry up to 3,900 chemicals, which have been identified as carcinogens, neurotoxins, substances that can cause skin irritation, disrupt the hormonal and reproductive systems, destroy the human endocrine system and cause heart diseases, infertility, and cancer.
The social aspect of periods can also not be overlooked, as nearly one in five women struggle to pay for basic single-use menstrual products on a monthly basis in the EU. Not being able to afford menstrual products can significantly reduce the quality of a menstruators life. This aspect is also known as 'period poverty'.
This is an issue that affects (at least) half of the world's population. And although better alternatives for menstrual products, such as reusable products (i.e: period pants and cups) as well as toxic-free and plastic-free products have existed for decades, the population that knows about them or that have access to them is still the minority. 
This is due to many factors: period taboo (current societal structures which perpetuate a taboo around menstruation), misinformation & lack of education (because of the taboo, education and information on the subject is not encouraged), lack of interest from multinational companies (single-use plastic products are cheaper than reusable and plastic-free ones), unavailability (reusable and plastic-free menstrual products are generally harder to find, in particular they are less available in mainstream retailers, such as supermarkets and local commerce); and, inaccessibility (menstrual products are also not economically accessible to many people that need them).
A Week of Action
With the purpose of tackling period plastic and harmful chemicals, the period taboo, and increasing access to plastic-free and reusable menstrual products, during the 19th-25th of October last year the 3rd edition of the Environmenstrual Week of Action was held. A week dedicated to putting periods in the spotlight and to advocating for reusable, eco-friendly, toxic-free and plastic-free menstrual products for everyone! 
The first ever Environmenstrual Week was launched by Wen (Women's Environmental Network) in 2018 in the UK. From that moment until now, many organisations have joined the cause, and last year it was the first time the campaign was held at the European level, with the support of the Break Free From Plastic movement, to amplify the work happening within organisations all across Europe (and beyond) on this important topic.
15+ NGOs across Europe joined the week by carrying out various activities, such as raising awareness on the impacts of single-use menstrual products and on the benefits of plastic-free and reusable items, skilling up educators, breaking the taboo around periods, demanding action from producers and suppliers, and asking for policy change at the national and European level. (For more details on the campaign and activities, please check the webpage here).
As part of this bloody week, individuals had also the chance to break the taboo by joining the "Period Proud Challenge" , here are some highlights from the challenge… 
The main demands of the organisations are consolidated in the so called "Bloody Manifesto", which calls on the EU to take action on behalf of half of its population and give menstruators across Europe the right to an informed choice and access to safe, fair & circular menstrual products  – in line with the EU's circular economy objective.
The Manifesto has been enthusiastically received by Members of the European Parliament across the political spectrum, with representatives from different groups joining the call:
We thank all signatories for their precious support, and we call on all European parties and elected individuals to join the manifesto as well, so we can make our demands to the European Commission as strong as this matter deserves!
Check out the full list of supporters (up to date as of Feb 01 2021): 
Members of the European Parliament 
Ciarán Cuffe, Greens / EFA, Ireland
Clare Daly, The Left, Ireland
Eleonora Evi, Greens / EFA, Italy
Grace O'Sullivan, Greens / EFA, Ireland
Jytte Guteland, Greens EFA, Sweden 
Kim Van Sparrentak, Greens / EFA, Netherlands
Manuel Bompard, The Left, France
Maria Arena ,Greens / EFA, Belgium
Margrete Auken, Greens / EFA, Denmark
Mick Wallace, The Left, Ireland
Monika Vana, Greens / EFA, Austria
Piernicola Pedicini, Greens / EFA, Italy
Terry Reintke, Greens / EFA, Germany 
Tilly Metz, Greens / EFA, Luxembourg
Organisations
Alternativa Verde por Asturias EQUO, Bundesverband Meeresmüll/German Marine Litter Organization e.V, Center for International Environmental Law (CIEL), Ekologi Brez Meja, Friends of the Earth Croatia, No Plastic In My Sea, Plastic-Free Hackney, Posidonia Green Project, Surfrider Foundation Europe, The Good Tribe, Trash Hero World, Zero Waste Austria, Zero Waste Europe, Zero Waste France, Zero Waste Latvija, Zero Waste Montenegro, Zero Waste North West
107 Individuals around the world
99 IN EUROPE: Alec Duneld, Sweden | Alejandro Rovira, Spain | Aleksandra Krysiak, Poland | Ana Oliveira, Belgium | Andra Öz, Belgium | Anleena Liivango, Estonia | Ann-Kathrin Steiner, Austria | Anna Gandl, Austria | Anne-Fleur Hug, France | Anne-Marie Hewitt, United Kingdom | Anuj shah, Netherlands | Arianna Gamba, Belgium | Beatriz Echeverria, Spain | Beatriz Romero, Spain | Berenice Westwood, United Kingdom | Camelia Negura, Belgium | Cate Roberts, Italy | Cathryn Teasley, Spain | Charlotte Vigueur, France | Daniela Hinteregger, Austria | Darja Dubravcic, Croatia | De Cat Veerle, Belgium | Dean Collier, United Kingdom | Delphine Levi Alvares, Belgium | Dmitry Nesterov, Russian Federation | Dragana Vukić, Croatia | Eilidh Robb, Belgium | Eleonora Cantini, Italy | Emilie de Bassompierre, Belgium | Emily Kitchen, United Kingdom | Esra Tat, Belgium | Eva Sikemäe, Estonia | Federico Venturini, Italy | Fedora Chudoba, Austria | Flemming Kramer, Denmark | Gaia Carrara, Italy | Giedre Liutkeviciute, Netherlands | Gillian Köhler, France | Gregnanin Vittorio, Italy | Isabel Berends, Belgium | Jack McQuibbam, Belgium | Jane Whitehead, United Kingdom | Jill Oakes, United Kingdom | Joanna Wesniuk, Switzerland | João vaz, Portugal | Johanna Schumacher, Austria | Karin Denys, Belgium | Kärt Puusepp, Estonia | Kaspars Rozītis, Latvija | Katariina Ingerma, Estonia | Kathryn Wood, United Kingdom | Katie Duddy, Ireland | Kristina Heilinger, Austria | Larissa Copello de Souza, Belgium | Laura Treimane, Latvia | Lisett Kruusimäe, Estonia | Lorenzotti Benedetta, Italy | Lorraine Wenzel, Austria | Ludovica Serafini, Italy | Mª Luz Castro Pena, Spain | Magdalena Wienerroither, Austria | Malin Leth, Sweden | Mar Rodríguez Romero, Spain | Maria Donas, United Kingdom | María Teresa Martínez Rodríguez, Spain | Marie Gandl, Austria | Marie Tombu, Estonia | Marina Kuburic, Bosnia and Herzegovina | Matilde Monti, Italy | Merili Vares, Estonia | Meritxell Leache, Andorra | Miina Karindi, Estonia | Mireia Perez, Spain | Mónica Díaz Carrodeguas, Spain | Monique Robineau, Austria | Morgane Henry, Greece | Morgane Maeterlinck, Belgium | Nanna Kagan, Denmark | Natasja Billet, The Netherlands | Neves Arza Arza, Spain | Paloma Yáñez Serrano, Spain | Paola Hernández Olivan, Spain | Paola Hernandez, Spain | Petra Frischenschlager, Austria | Priscilla Aroean, United Kingdom | Renée Laqueur-van Gent, Belgium | Roi Cuba Dorado, Spain | Rossella Recupero, Belgium | Roxanne Cacpal, Netherlands | Sabela Quintillán Quintillán, Spain | Sandra BM Kartau, Estonia | Sarah O'Hara, Ireland | Sarah Wichmann, Austria | Stephanie, The Netherlands | Tea Maljkovic, Croatia | Verónica Torrijos Pérez, Spain | Weronika Mazurek, Poland | Wymeersch Samira, Belgium
8 IN THE AMERICAS: Ainhoa Perez, United States of America | Alexandra Hertell, Puerto Rico | Lety Segovia, United States of America | Kaylee Cubbison, United States of America | Olga Pstiga, Canada | Sarah Burns, Argentina | Sharon Davlin, United States of America | Zach Van Stanley, United States of America 
Here are a few related posts...