This Black Friday: Choose Reuse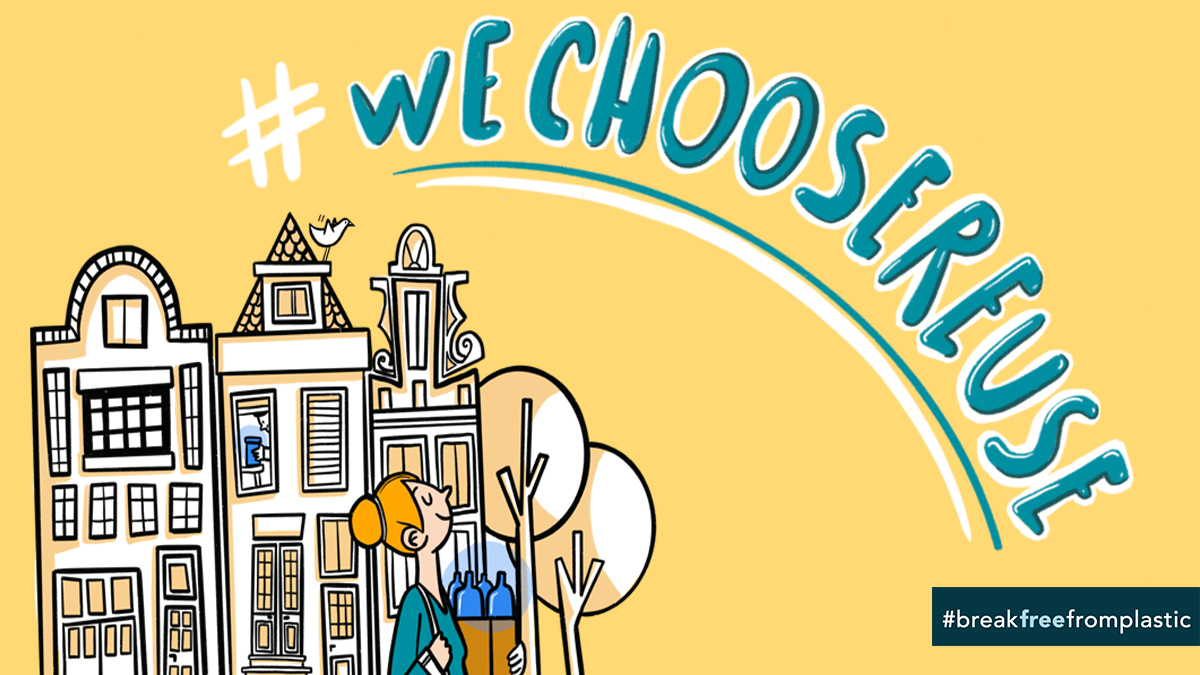 By Lauren O'Leary
Black Friday may have started as a US phenomenon but it has quickly gained traction in Europe, starting over a decade ago. When we think of Black Friday we conjure up an image of crazed shoppers queueing outside a department store. However, in recent years as technology has become more widely adaptable, consumers have been taking advantage of the internet to do their Black Friday shopping. Actually, unlike in the US, Black Friday is predominantly an online affair in Europe. Once again, we saw an increase in the volume of Black Friday sales by 11% compared to 2018, with UK, Germany and France dominating the sales.
Actually, the majority of shopping is expected to be done online from 2021 onwards and we can anticipate that the e-commerce market will be even more bouyant for Black Friday this year due to the coronavirus pandemic, as people will want to avoid crowded shops. However, this expected surge in Black Friday e-commerce sales will increase the already damaging effect that overconsumption has on the environment. The hidden environmental costs, that consumers might not be aware of when shopping online, are causing emissions to rise at an alarming rate. With vast amounts of single-use packaging (plastic and cardboard mainly), last-mile delivery, high return rate of items, and one click culture, e-commerce is having a huge environmental impact on our planet, notably in terms of GHG emissions, resource use and pollution generated. In fact in 2019, Amazon revealed that it has the same carbon footprint as a small country and vowed to reduce the damage to the planet by cutting its use of fossil fuels – a step in the right direction but not enough to even begin to tackle all the packaging waste Amazon is responsible for.
However, it's not all bad news out there! Let's explore some of the existing environmental friendly options. RePack is an innovative reusable e-commerce packaging company which is trying to tackle the growing environmental problem of single-use e-commerce packaging (read more in our case study). RePack not only produces reusable packaging but also provides a service that facilitates the packaging delivery and its return through a reward system. The system is simple, customers will pay a small deposit for the delivery and its return (around €3.50), which is then reimbursed in the form of a discount voucher for the next purchase upon return of the packaging. RePack can be reused at least 20 times, the equivalent to 20 disposable packages, and they claim they can reduce up to 96% of total packaging waste as well as reducing their carbon footprint by up to 80 %.RePack's system is a great example of how a reusable packaging model can work without compromising consumer convenience. We need to scale up these kinds of innovative circular systems as the world moves to e-commerce for their shopping!
Another company with a creative solution to reduce the enormous amount of e-waste generated is called eReuse. eReuse is combating the problem of e-waste by creating value from refurbishing, upcycling, reusing and tracking electronic goods. The ever growing number of mobile phones being sold during the Black Friday weekend is attributing to the mounting problem of e-waste. E-waste is a result of short replacement cycles, changing tastes and a linear economy. eReuse aims to implement a circular economy to extend the lifetime of electronic devices as much as possible by repairing, updating, and reusing them (learn more in our case study).
Finally, another interesting development in more eco-conscious shopping is the concept of the packaging free shop. But what is a packaging free shop? Essentially customers bring their own reusable packaging, and products are sold by weight or volume. This sector is growing fast throughout Europe with shops that are usually smaller, locally owned, or linked to specific producers. By 2030, we are expected to see an estimate of €1.2 billion in EU total turnover from bulk good sales. As consumers are becoming more aware and informed about ethical and environmental practices it will become ever more important for large supermarkets to reflect these changing consumer needs. Packaging free stores are a step in the right direction to reach our fundamental goal of reducing disposable packaging and helping change the mentality of our consumerist society to a zero waste model, planet positive model.
So this Black Friday, choose to reuse and resist the urge to buy for the sake of it. Instead, help reverse the damage caused to the planet by over consumption.