Gasteiz Zero Zabor respond to Vitoria-Gasteiz MSW Plan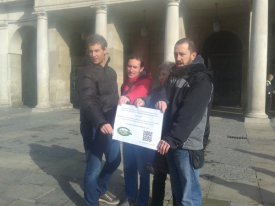 This blog was written by Gasteiz Zero Zabor in the Basque Country. We have translated and republished the article from their website. If you have been involved in zero waste events or work across Europe, we would love to hear your story. Please send any potential blog posts to [email protected].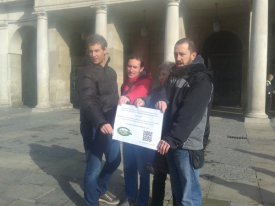 Gasteiz Zero Zabor 19/02/16
The Waste Management Plan for Municipal Solid Waste (MSW) for Vitoria-Gasteiz from 2008 to 2016 will soon finish and it is time to assess it. Some will certainly say that things are going perfectly because streets are clean. Others will make use of the big numbers, saying that "this year we've prevented 40,000 trees from being cut down", when we don't really know if that's a lot or not. Gasteiz Zero Zabor has produced a report objectively assessing the results of this plan cross-checked with the announced objectives . The main conclusion is clear: the plan has not even met a quarter of its objectives, it's a total failure. It's a failure of all of us, but it's even a bigger failure for the Vitoria-Gasteiz City Council who are implementing it. At the same time, given that a new plan is being drafted, Gasteiz Zero Zabor wants to raise some proposals that will help Vitoria-Gasteiz to meet EU and Basque targets on waste recycling. Our report can be found here.
In the coming weeks Gasteiz Zero Zabor will hold a series of meetings with all political parties so as to assess their commitment to our waste proposals. The overarching goal for any new plan should be Zero Waste, this might seem a utopian vision, but many cities are already working in this direction and getting closer and closer. The examples of San Francisco (USA), Treviso (Italy) or Ljubljana (Slovenia) show that it is possible to go Zero Waste and revert the situation in 10 years. What about Vitoria? Nothing new: we're stuck at 24% separate collection, a terrible figure for a European Green Capital! It's even more terrible, knowing that there's a EU target of 50% recycling rate to be met in 2020. The remaining waste of Vitoria is being landfilled, wasting resources and creating toxic leachates and greenhouse gases, some plastics will also fly South in the stomachs of the storks of Gasteiz.
Europe brings new airs with the circular economy package by which waste will stop being that sticky and messy mixture to become resources. Waste if properly separated is a resource, saves money, creates jobs and can preserve the planet. By composting all the kitchen waste of the city, the Alavese plain could be organically fertilized . Wouldn't it be nice to close down the landfill and bring organic food to plates at the same time? It is time to close the loop and reverse this situation through societal participation. It is viable and possible, it is just a matter of will.
Let's do it then: let's make sure that waste is prevented, reused or recycled!
Our short message to the political parties of the Council is: now that you're creating the new Waste Management Plan, believe in citizens and civil society, don't be afraid, it will be worth it!
Let's make sure that waste is prevented, reused or recycled!