Press Release: Beverage carton recycling rates substantially lower than reported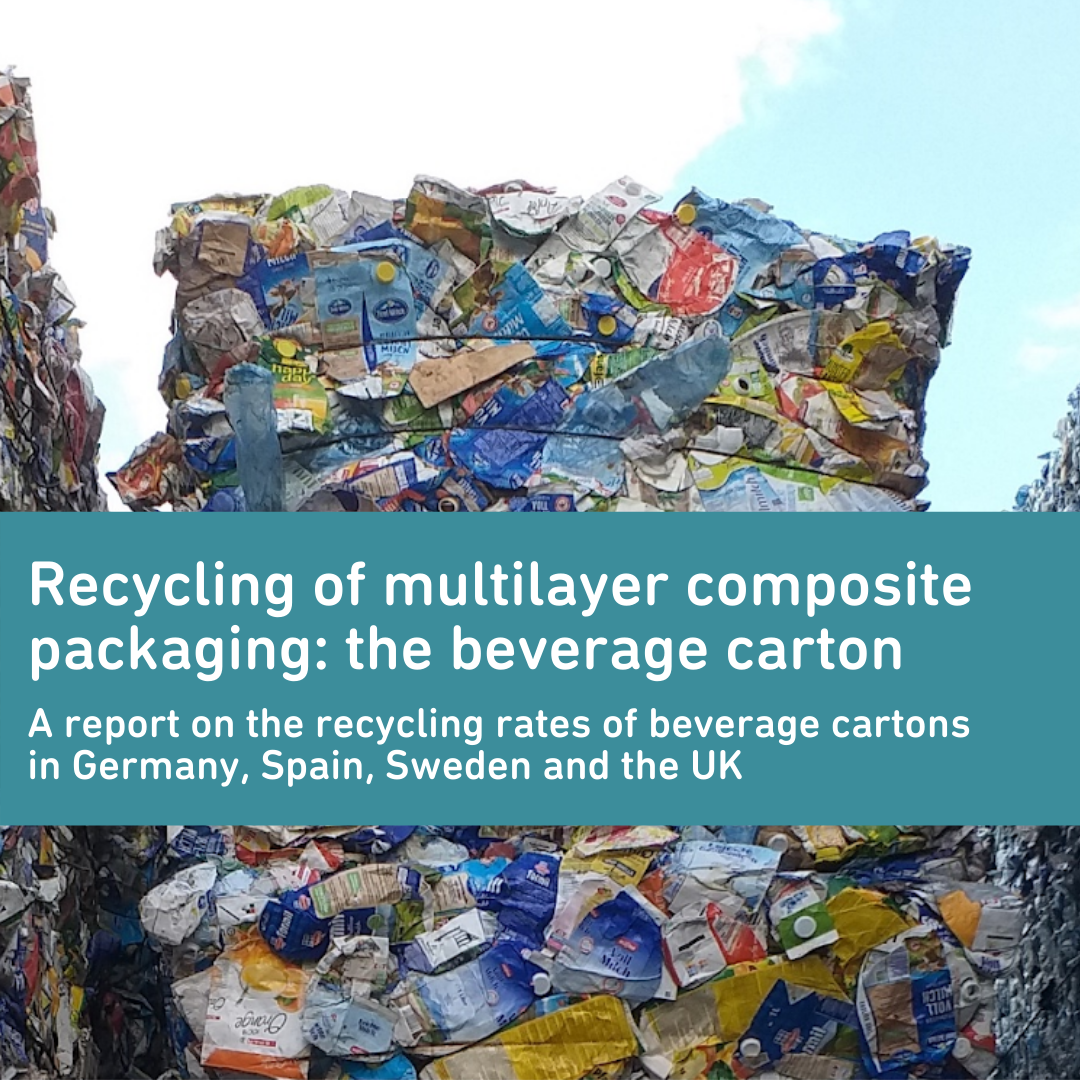 FOR IMMEDIATE RELEASE: Brussels, 16th December 2020
New research commissioned by Zero Waste Europe to Eunomia Research & Consulting has revealed that the actual beverage carton recycling rate in four European countries is far below what is currently being reported.
The 'Recycling of multilayer composite packaging: the beverage carton' paper calculated the estimated recycling rates of beverage cartons in the UK, Germany, Spain, and Sweden in 2020 using the European Union's updated recycling calculation methodology.
The new analysis estimated Germany's actual recycling rate to be 47.8%, rather than the 75% recycling rate and 87.4% collection rate communication by the Alliance for Beverage Cartons and the Environment (ACE).
Spain's estimated carton recycling rate was significantly lower at 21.5%, down from ACE's estimate of 80% against a collection rate of 51.2%.
Sweden and the UK were estimated to have recycled 21.9% and 29.5% of their cartons, down from ACE's estimates of 33% and 36%, respectively.
Beverage cartons are particularly challenging to recycle due to their complex make-up. While the materials used are technically recyclable, the format of the carton, which usually involves bonded layers of card, plastic polymers and aluminium, makes it difficult to separate these materials for recycling and reprocessing.
The report also found that difficulty in identifying and separating beverage cartons in material sorting facilities, as well as the lack of processing capacity at specialised recycling facilities, has also impacted on the recycling rate.
Commenting on the report, Joan Marc Simon, Director at Zero Waste Europe, said:
"Whilst plastic has been in the spotlight for its low collection and recycling rates, this study shows that other complex materials such as cartons are not doing much better. With new EU-wide mandatory recycling targets, and a new associated recycling calculation method, the EU must develop clear guidelines and methodologies to ensure real recyclability. Consumers are confused by so many false recyclability claims by the industry, so we must:
Ensure that producers of complex packaging place circularity at the heart of the design process,
Mobilise investment towards reuse and recycling infrastructure;
Implement effective collection and sorting systems, such as deposit return schemes;
Have a single, reliable, widely recognised recyclability label for packaging purposes, with attribution depending on the characteristics of the product and on the collection and recycling technologies currently available at industrial scale."
Read the full report here.
Download the accompanying infographics (Germany, Spain, UK, and Sweden).
ENDS
Notes to editors
Previously, the beverage carton recycling rate was calculated based on the collected or sorted quantities of beverage cartons, but a new EU recycling rate methodology, introduced in 2019 and likely to be followed in the UK, means that each component material must be assessed as recycled at the point that material actually enters the recycling process. For composite products like cartons, the recycling rate must be based on those for each individual material, drastically changing the outlook for beverage carton recycling rates.
Media inquiries
Ana Oliveira, Communications Coordinator at Zero Waste Europe
[email protected] | +32 485 986 111
About Zero Waste Europe
ZWE is an European independent initiative bringing together organisations and municipalities committed to work to eliminate waste in Europe. ZWE is participating in the international organisation Global Alliance for Incinerator Alternatives (GAIA) and the Zero Waste International Alliance (ZWIA).
ZWE is involved in the transposition of waste directives, including waste package (waste framework directive, landfill directive, ecodesign) and single-use plastics legislation but also product, energy and toxics & health policies. ZWE is also working on climate policies such as the EU 2050 climate strategy, Renewable Energy Directive, EU ETS, and Sustainable Finance.
www.zerowasteeurope.eu
About Eunomia
Eunomia Research & Consulting Ltd ('Eunomia') was established in Bristol, England, in 2001. The company is an independent consultancy dedicated to adding value to organisations through the delivery of improved outcomes. Eunomia has over 70 employees in the UK, and has offices in Bristol, London, Manchester, Glasgow, Brussels, Copenhagen, Auckland and New York. Working across the world, Eunomia's consultants have experience and expertise in environmental, technical and commercial disciplines. Eunomia's main service areas include:
Waste management;
Low carbon and renewable energy;
Resource efficiency;
Circular economy;
Environmental economics and policy;
Policy and programme evaluation;
Marine planning; and
Natural capital and ecosystem services.
Eunomia is an appointed advisor to many types of organisations including the European Commission, central government, local and regional authorities, national utilities, waste management and technology companies and global financial institutions. Eunomia has a history of supporting local government to develop holistic approaches to improving their environmental performance including identifying inefficiencies, finding optimum solutions, gauging the appetite for new models of product/service delivery, cost-effective and future-proofed compliance, and building practical cases for change across organisations of all shapes and sizes.
For more information about Eunomia, please visit www.eunomia.co.uk