Now is the time to slay the EU plastic waste dragon! Plastic Waste Trade Action calling for full ban of EU plastic waste trade exports outside of its borders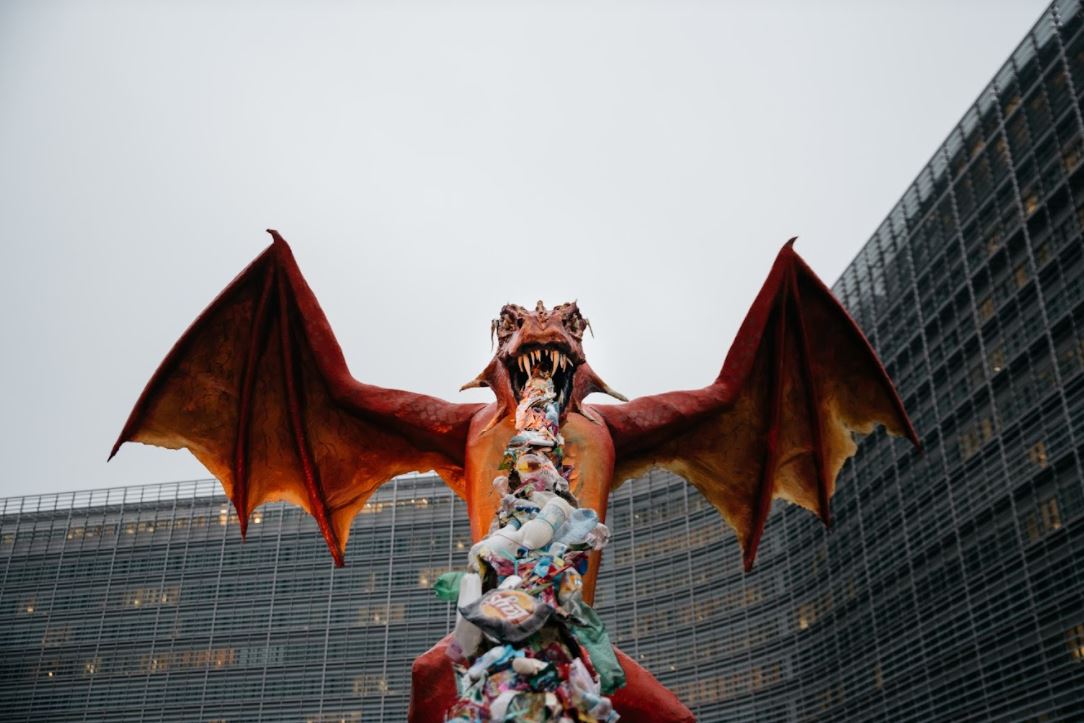 What: Plastic Waste Trade Action calling for full ban of EU plastic waste trade exports outside of its borders
Where: Between the Berlaymont and Justus Lipsius buildings at Schuman square, Brussels 1000
When: 29 September, 9:00-18:00 CET
Who:
Break Free From Plastic; Rethink Plastic alliance; Environmental Investigation Agency (EIA); European Environmental Bureau (EEB), Zero Waste Europe (full day)
European Commissioner for Environment, Oceans and Fisheries Virginijus Sinkevičius (17:15 – 17:45)
MEPs (time TBC)
Why and Context:
The 3 metre plastic waste dragon is coming back to the European quarter this September, and 36 MEPs and 61 organisations across the world agree that now is the time to slay it.  There will be the opportunity for all other MEPs and organisations interested to join the commitment on the day.
Irresponsibly managed waste has no place in a circular economy. In 1950, the world produced 1.5 million tonnes of plastic. In 2019, the European Union (EU) shipped more than 1.7 million tonnes of plastic to third countries in the form of waste, mostly to Turkey, Malaysia and China. Not only does this demonstrate the EU's longstanding inability to properly handle the incredibly high levels of plastic consumption and subsequent waste it produces but also the scale of negative impacts this has on receiving communities, and the planet. Not previously in the public eye, attention on this issue is finally gaining in traction across the globe.
A soon-to-be published EIA report shows that over the last 30 years more than a quarter of a billion tonnes of plastic waste has been legally traded around the world, with the European Union consistently being one of the largest plastic waste exporters in the world. Out of the top 10 plastic waste exporting countries in 2020, six were European Union Member States (Germany, Netherlands, France, Belgium, Italy and Slovenia).
That's why the Break Free From Plastic (BFFP) movement, the Rethink Plastic alliance (RPa), Zero Waste Europe (ZWE), the Environmental Investigation Agency (EIA), European Environmental Bureau, MEPs and supporting organisations agree the EU must address and resolve this issue, by enabling a ban on plastic waste exports outside of its borders, and ensuring that intra-EU management of plastic waste is fully in line with a genuine circular economy and current international agreements.
In October 2021, the European Commission will table a new proposal for the EU Waste Shipment Regulation, with the intent of better framing EU waste shipments through:
measures to avoid potential environment-and-health-related adverse effects on the environment and public health caused by EU shipments of waste; and
a better inspection and enforcement system to tackle illegal waste shipments;
At this crucial juncture,  BFFP, RPa and its members will hold a full day street action, report launch and exhibition event in front of the Berlaymont building in Brussels, to urge the European Commission to propose a ban on plastic waste exports as part of an ambitious revised Waste Shipment Regulation.
Confirmed attendees include the European Commissioner for Environment, Oceans and Fisheries, Virginijus Sinkevičius, MEPs and leading environmental NGOs, who will be present for a formal handover of Plastic Waste Trade Manifesto signatures to the European Commission around 17:15 CET.
This is a key opportunity for the media to cover one of the most pressing environmental justice issues of our generation; as such, we will dedicate a portion of the day to interviews with organisation representatives and key decision-makers alike.
More details and full line up coming soon!
For more information and to confirm attendance/interviews, please contact:
Niamh Cullen, Communications Coordinator, Rethink Plastic alliance
[email protected] +32 (0)497 83 23 24
Berta Corredor, Press Officer, Zero Waste Europe, [email protected] +32 (0)471 96 55 93
For more information see https://www.breakfreefromplastic.org/the-plastic-waste-trade-manifesto/.