Malte Gallée, MEP calls for "a focus on reusable options" at Zero Waste Europe's food packaging event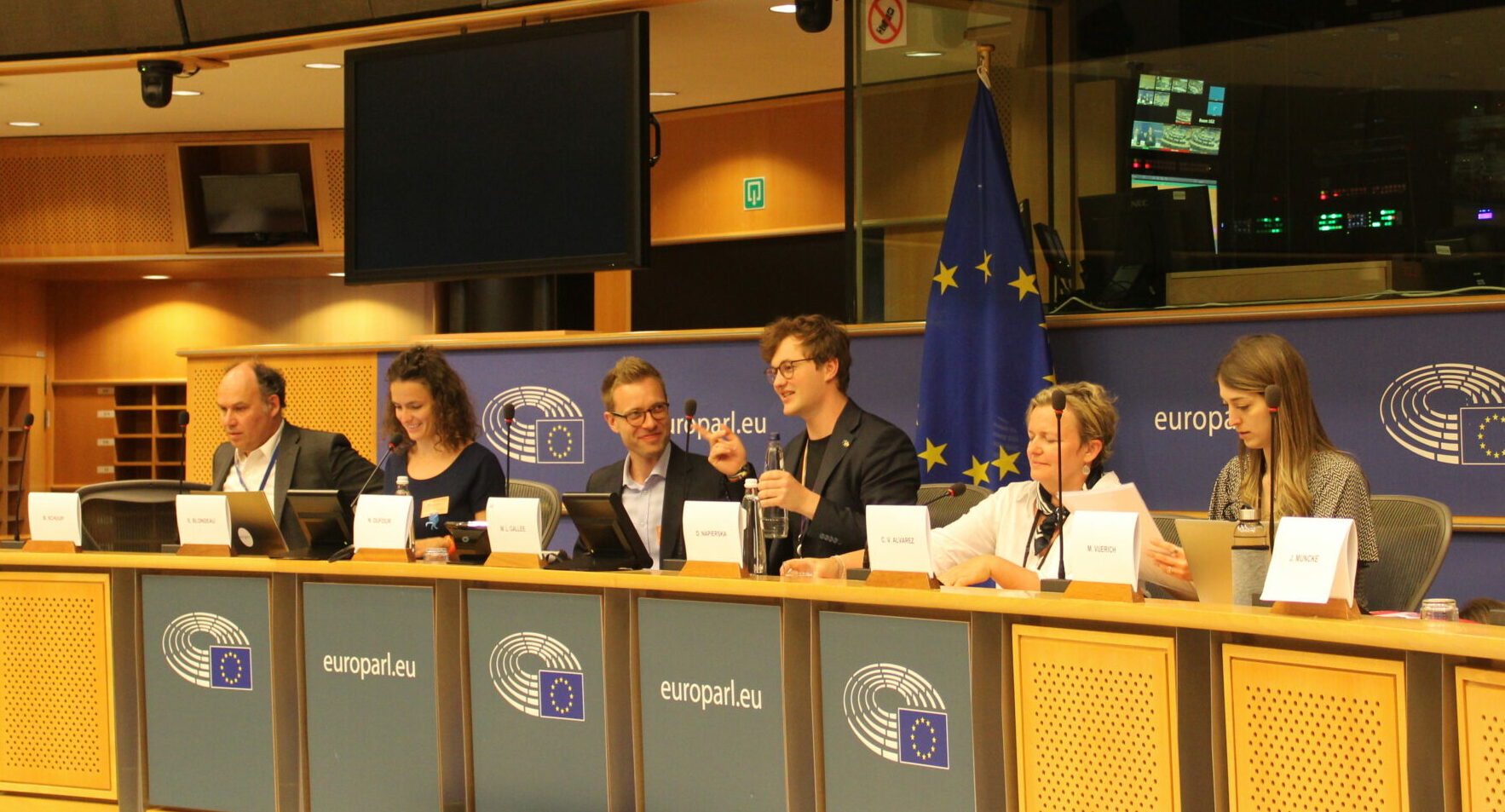 Brussels, 06 June 2022
Malte Gallée, MEP pushed for the need to "focus on reusable options" and pollutant-free materials as key to guarantee safety in food packaging. This call for long-lasting, safe packaging solutions was made as part of Zero Waste Europe's "What we need to ensure the safety of food packaging" event, held yesterday afternoon at the European Parliament.
Speaking at the event, Malte Gallée said: "We use packaging everywhere, from transporting goods to packaging our food and drinks. With the new packaging regulation, we have an unprecedented opportunity to ensure that packaging of the future is pollutant-free and safe to people and Nature. We have to reduce the use of single-use plastic and focus on reusable options".
With the ongoing negotiations on the Packaging & Packing Waste Regulation (PPWR), the event gathered civil society, industry, and EU institutions stakeholders to share their expertise and views on how the PPWR must minimise the impact of packaging on consumers' health and materials circularity. 
Safety in food packaging is seen by Zero Waste Europe as a key point for the success of the PPWR and other pieces of EU legislation. With the recycling of materials for use in contact with food being subject to a complex interplay of regulations, it is crucial to ensure that this process does not create new pathways through which humans can be exposed to hazardous chemicals.
Key highlights from the discussion
On the topic of packaging hygiene and harmful chemicals
Dorota Napierska, Policy Officer on Toxic-Free Consumption and & Production at Zero Waste Europe:  "We should recognise that safety and hygiene are critical for all packaging and are determined by how the food packaging is manufactured and handled, not whether it is single-use or reusable. The revised PPWR creates an opportunity to address non-toxic aspects of all materials along the whole life cycle of different types of packaging".
Jane Muncke, Managing Director and Chief Scientific Officer at Food Packaging Forum: "Chemicals migrate from food packaging into food, including some well-known hazardous chemicals, and this means that the entire European population is unnecessarily exposed to chemicals that may lead to avoidable chronic diseases. Hazardous chemicals have no place in food packaging, and it is time to put human health first."
Michela Vuerich, Programme Manager Sustainability & Services, ANEC (the European Consumer Voice In Stardardisation): "We need ambitious and effective measures in the PPWR and for it to adhere to the waste hierarchy. Only this way can we ensure consumer trust in the safety of food packaging and its role in maintaining the quality and performance of products."
Carla Valeiras, Policy Officer at SAFE – Food Advocacy Europe: "EU legislation needs to work towards phasing out hazardous chemicals from all packaging and food contact materials, especially those with endocrine disrupting properties, to protect consumers' health and the environment. The PPWR presents an opportunity to do so, and we hope to see this further addressed by the upcoming revision of the Food Contact Materials Regulation."
On best practices in food packaging:
Eleonore Blondeau, New Projects Manager and Circular Industry Expert at Eternity Systems: "It is believed that the reuse of food packaging is new when it has existed for +30 years. Companies like IFCO, CHEP or Ecocup prove that this is economically, ecologically and operationally feasible on a large scale. What are we waiting for?"
Reactions to the discussion from the European Commission:
Dr Wolfgang Trunk, Team Leader, Circular Economy – From Waste to Resources, DG ENVIRONMENT, European Commission: "Our design for recycling criteria makes sure the requirements identify the substances of concern. At best, we'll have them in 5 years' time".
Bastiaan Schupp,Team Leader Food Contact Materials, DG Health and Food Safety (DG SANTE), European Commission: "We are exploring the possibility of facilitate reuse by ensuring food safety [under the Food Contact Materials file]. We need to ensure that materials can be safe, are safe, and if we learn something we should be able to add flexibility."
ENDS
---
NOTES TO EDITORS
All the presentations of this event can be found on the event page.
MEDIA OUTREACH CONTACTS
Dorota Napierska, Policy Officer on Toxic-Free Consumption & Production at Zero Waste Europe:

[email protected]

 

Ana Oliveira, Head of Communications at Zero Waste Europe:

[email protected]