Letter to EU Commission on new subsidies for waste-to-energy plants in Poland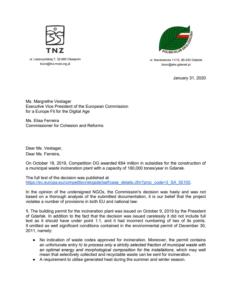 The European Commission approved new Cohesion Fund aid of more than €100m to build two waste-to-energy incineration plants in Poland. Our Polish member, TNZ, highlights in a letter how this contradicts other commission legislation, such as the recently approved taxonomy regulation.
Available in English
Supported by the LIFE Programme of the European Union. This website does not necessarily reflect the views of the donors.