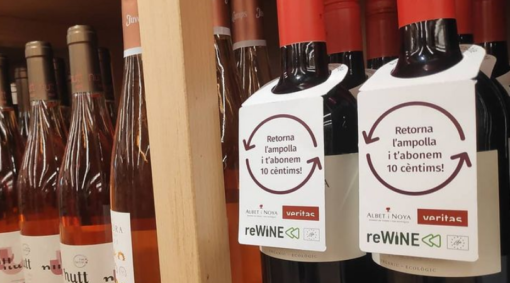 reWINE – the best way to enjoy wine, one sip (or reuse) at a time
Today,  Zero Waste Europe releases the eighth chapter of its Consumption & Production Case Studies series aimed at promoting Zero Waste business models: "The story of reWINE", which proves that a circular and (much) more sustainable way of consuming wine is possible.
In spite of being a priority in the European waste hierarchy, reusable packaging is undergoing a downturn in recent years. In fact, as shown by recent studies, in the majority of European countries, wine bottles are not reused, which makes it crucial to develop initiatives to bring reusable systems into the market –  and that's how reWINE was born. 
In the wine industry, single-use glass is heavily used for packaging. On the one hand, glass has the greatest environmental impacts compared to other packaging materials (i.e. PET, aluminium, and beverage carton). On the other hand, glass is 100% reusable and 100% recyclable at the end of its life cycle, and is an inert material, which makes it more suitable as a food contact material.
The reuse of packaging offers great environmental benefits. By extending the life of materials, there is a great reduction in CO2 emissions as well as in the pressure on natural resources and ecosystems. In fact, the latest studies have proven that reusing a glass bottle just five times can already reduce the overall environmental impact by over a third compared to single-use glass bottles. 
In the context of this case study, in Catalonia (Spain), refillable glass bottles only represent 19% of the total amount of glass bottles on the market and this is limited to the sector of the HORECA (for hotels, restaurants and cafés), basically with bottles of beer, soft drinks and water.  The reWINE Case Study proves that the reuse of glass bottles by the wine industry brings overall benefits for the environment, society, and economy, including the creation of local jobs, as well as multiple advantages for retail and hospitality businesses.
Some of the key findings of this study are:
Reusing a glass bottle only 8 times (7 washes) could already save between 1.7-2.6 kg of CO2 eq/bottle

; 

In this project,

a total of 82,239 glass bottles were reused and 171,058 tonnes of CO2 eq were saved

(which is equivalent to the emissions that a vehicle would produce while travelling 11 times around the world!)

Deposit Return Schemes (DRS) is the most effective way of guaranteeing the return of bottles

(up to 95% return rate);

In this project,

more than 21,756 tonnes of waste were prevented

with the reuse and refill of wine glass bottles;

The

distance between the washing facility and the winery (also called 'eco-radius') is of prime importance when optimising the economic costs of reusable packaging.

In Catalonia, the optimal distance between the winery and the washing plant is 60 km, sufficient to cover the areas of each Protected Design of Origin (PDO).

The

bottle refillable system could create around 330 green jobs

(nine times more jobs than a one-way bottle).
The benefits of reuse systems on climate change mitigation are also backed by recent studies on the efficiency of reuse systems – which prove, for instance, that moving 50% of the food and beverage containers sector to reusables in the EU by 2030 could save up to 2 .6 million tonnes of CO2 equivalents.
The lack of economic and legal incentives to support reusable systems is one of the biggest challenges for this model; however, the reWINE project revealed that refillable systems for wine are possible and, if scaled up, would make a formidable contribution to the environment and circular economy objectives. For this to happen, it is important that policies are in place to support this transition – for instance, by putting in place regulatory measures (e.g. reuse targets, packaging format harmonisation, economic incentives) and instruments to facilitate and optimise the transition towards reuse; but also through investments in reverse logistics infrastructure.
Marta Beltran, Project Director at Rezero, highlights the role of legislation in helping new business models like reWINE to blossom: "The reWINE project clearly shows the positive impact of wine bottle reuse on climate change mitigation and is key for the transition of the sector towards zero waste. But in order to spread wine bottle reuse and make it accessible for the economic sector, both infrastructure and regulations are necessary (like reuse targets and effective instruments like Deposit Return schemes)."
---