Meet our members – Zero Waste Italy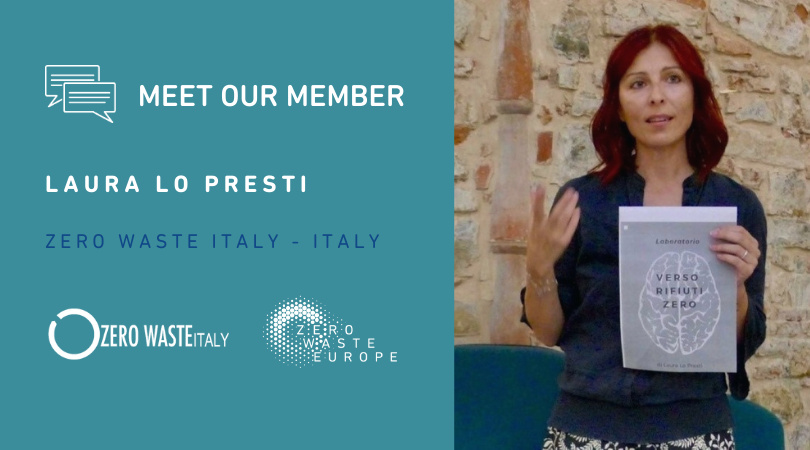 Zero Waste Europe is happy to introduce the blog series "Meet our members". Through this series of monthly interviews, we want to give you a chance to get to know our members and the work they are doing.
---
Meet Laura Lo Presti from Zero Waste Italy, Italy
Hi Laura, can you give us a brief introduction to Zero Waste Italy's focus?
Zero Waste Italy has its headquarters in the Zero Waste Research Center in Capannori (Lucca), we have the pleasure to closely work together with our President and great motivator Rossano Ercolini.
Our main focus is to keep connecting the hundreds of Zero Waste Municipalities, the design/industrial companies with the thousands of associations/groups of citizens and activists across Italy.
We work on a wide range of projects with adults and children with the single objective of advancing the zero waste future for Italy and beyond.
How long have you been in the field and what got you into (zero) waste?
The first time I heard about "zero waste" was in 2015, during an initiative in Florence (Tuscany, Italy) against the construction of a new waste incineration plant which, thanks to the huge city mobilization, was never built.
One year later, in 2016, I became vice president of the Montalbano BioDistrict, an association that works with 10 municipalities and 3 provinces in the heart of Tuscany on agriculture, hydrogeological structures, slow tourism and much more. Within one of our initiatives, I invited Rossano Ercolini to talk about waste management in our area. Since then, my relationship with Zero Waste Italy has grown, until it became a daily contact.
What is your current role in the organisation?
My current role in Zero Waste Italy is to coordinate the more than 300 Italian Zero Waste Cities.  My work includes both maintaining contacts with the Municipalities and collaborating with the regional authorities, other activists, and associations with similar interests, goals, and intentions.
Tell us more about one ongoing campaign/activity you're working on?
Since the outbreak of the current COVID-19 pandemic, I have been working on institutional directives, impact, and alternatives to the disposable single- masks that are used as protection against the virus. We have been producing various press releases and articles, also addressed to our national Government to raise awareness around the existing reusable alternative to single-use masks.
The ongoing collaboration between Zero Waste Italy and the Eta Beta Cooperative has led to the creation of an innovative industrial washing-rental model that can be replicated in any other place, with minimal investments.
This washing-rental system can be applied to all medical devices such as shoe covers, gowns, hair caps, etc. which are currently largely disposable. With Eta Beta, we are also creating a line of washable and filtered zero waste masks with high coverage that will soon be launched on the market (read more about this project here and here). We are also organising to produce shoe covers, hair caps, and all these medical disposable devices, which currently end up in the general waste.
If there was one thing that you would like your organisation to be known for, what would it be?
Zero Waste Italy raises awareness around the problem of waste across Italy. This topic touches the lives of everyone, that's why we speak to politicians as well as housewives, carrying out concrete campaigns that care about our health and the one of our planet.
There's not one, but many reasons why Zero Waste Italy is known for; my favorites one is that we empower people.
I would like to share a famous motto "without people, nothing is decided". This means that each of us can make a difference with our own commitment, participation and example. As Voltaire said, "every man is guilty of all the good he has not done."
How is the current COVID-19 pandemic impacting your work?
COVID-19 has opened unprecedented scenarios in every field. The strict limitations that don't allow us to move and meet freely have affected all social aspects of our lives. Zero Waste Italy, thanks to its pragmatism, has always had a very busy calendar of initiatives, within our headquarters but also traveling around the country. The pandemic has pushed us to depend on technology to communicate our message with other people and maintaining contacts, but frankly, we can't wait to get out of our rooms and start meeting people again.
You can find more about Zero Waste Italy and their work here.