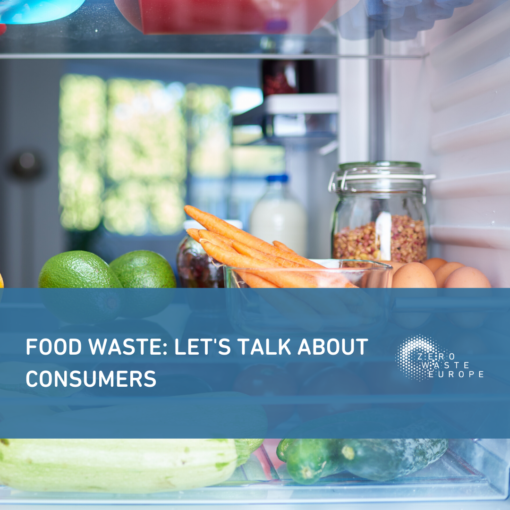 Food waste, let's talk about consumers
The reduction of food loss and waste has been identified as a crucial demand-side adaptation policy to the challenges posed by climate change. This awareness is reflected in the call made by the SDG target 12.3 from the United Nations, "By 2030, halve per capita global food waste at the retail and consumer levels and reduce food losses along production and supply chains, including post-harvest losses". 
Reducing food loss and waste means to improve resource efficiency and, consequently, to reduce GHG emission per unit of food consumed (1). In a reality where 11% of the world population suffers from undernourishment and with a food system unable to feed a population prospected to reach 10 billion by 2050 (2), wasting resources is simply unacceptable. 
To meet the 50% reduction goal, Europe needs to act fast. And it must tackle the food waste issue at all the stages of the supply chain. With the European Green Deal and the Farm to Fork Strategy, the European Union aims at accelerating the transition to a sustainable food system. This changeover is based on four pillars: 
Food loss and waste prevention,

Sustainable food production,

Sustainable food processing and distribution,

Sustainable food consumption.
When the final strategy was published in May 2020, during a time of incredible pressure for the food system due to the COVID-19 pandemic, the attention dedicated to food loss and food waste prevention was probably lower than expected. The Farm to Fork Strategy underlines the importance of achieving the SDG Target 12.3, but it only highlights the importance of cutting food waste at the consumer and retailer level, leaving food loss along production and supply chain out of the discussion. 
Food waste needs to be tackled at all the levels of the supply chain. However, in Europe, the "fork" level is particularly relevant. The largest share of food waste in Europe happens at the consumption stage , accounting for around 53% of it. Undoubtedly, many of the causes of food waste at the consumer level are related to practices happening in previous stages of the supply chain. Hence, systematic policies are needed. The Fork to Farm strategy missed this point by targeting only the consumptions and retail level and going against its original purpose.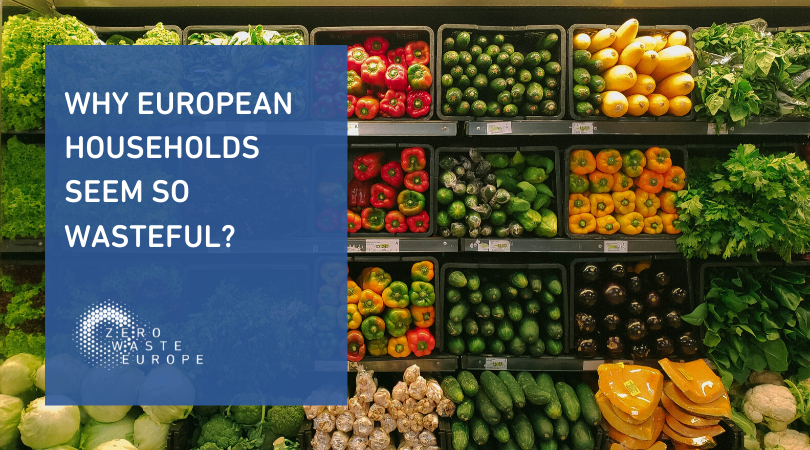 Why European households seem so wasteful? It might appear as a broad and tricky question. Fortunately, several studies have been published trying to unpack the household food waste reality:
Food stored (3) at a temperature that is too low or too high is subjected to a degradation in quality faster than normal

. 

Food that is bought for a specific occasion or a special recipe is likely to sit in a shady corner of the cabinet for months or years (4)

. The "shady corner" phenomenon is then exacerbated by poor shopping planning, a bad habit that often results in buying something that is already present in our fridge or cabinet.

Packaging, which should protect the food and increase the shelf life, is often found to be a driver of food waste. It is the case of multi-packs and fixed portion sizes, which can lead to over-buying and, consequently, wasting (5). Too large packaging and packaging difficult to empty are other reasons for perfectly edible food being thrown away (6).

Wrong interpretation of the meaning of "best before" and "use by" is notably a cause of food waste in household and it is also cited in the Farm to Fork strategy as one of top issues to address

(7).

The aesthetic requirements that push us not to pick the apple with a bruise from supermarket shelves are likely to play a role in the domestic environment as well (8).
If there is something that researchers will never be tired of repeating, is that changes in behaviour are not easy to achieve. Luckily enough, a number of notable initiatives, both from the public and private sectors, have joined the fight against food waste, with the goal of generating awareness and nudging behavioural change in consumers.
WRAP, a charity from the UK, promoted an information campaign called Love Food Hate Waste, aimed to spread the knowledge about practical everyday things to waste less food. Through the creation of a webpage displaying optimal storage information, local radio adverts, local online advertising, and cooking clubs the campaign was able to achieve a 14% decrease in avoidable food waste in West London. 
Too Good To Go, a social-impact company fighting food waste,  is not only working to save food at the retail level. The company is also creating a whole movement around food waste and it aims to inspire 50 million people to change their behaviour. How? One of the main initiatives is the date labelling campaign, which seeks to clarify the difference between "best before", which is related to food quality, and "use by", which is related to food safety.  Too Good To Go has engaged with food companies to change the "best before" in "best before, but often good after". In this way, consumers can feel safer to eat food that has passed its "best before" date and can be reminded of the difference with the "use by" every time they check the label (you can read Zero Waste Europe's case study here).
Grim, a Copenhagen-based company, delivers subscription boxes full of ugly fruit and vegetables usually not accepted by supermarkets because of the stringent aesthetic standards. The impact that Grim is likely to have is not only related to the actual food saved. Consumers that buy an "ugly box" might be pushed not to discard an imperfectly shaped cucumber the next time they go for grocery shopping. 
Phenix, a French start-up, has saved about 60 million meals in 5 years by organizing redistribution flows for unsold food. One of the Phenix's initiatives is the creation of the 'Gueules Cassées' label, a sticker that retailers can use to signal the presence of discounted food. The discount is often due to a short expiry date or aesthetical defects. The consumers are then encouraged to purchase the food that is "as good but cheaper" (you can read Zero Waste Europe's case study here).
These are just a few examples of entities that engaged in the fight against food waste and that are contributing to European goals with their work. Yet, a lot of work needs to be done and a lot of it needs to be done at the policy level. To be effective, waste reduction policies should bear in mind the importance of understanding consumers behaviours and patterns to be able to change them. Moreover, an excessive tendency to blaming the consumers might result in an over simplistic way of dealing with the food waste issue. Food waste is a complex issue and needs to be treated as such. Interventions are needed from Farm to Fork, seeking for interconnections between the different levels and understanding that none of them can be "waste-free" without looking at the big picture. 
Do you want to know more? Read the Zero Waste Europe Feedback on the Farm to Fork Strategy. 
As the world still fights against COVID-19, we continue working for a future without waste and that works for both people and the planet. This article is the second chapter of our brand new series telling the story of how a fair food system could help create a zero waste and more sustainable future for all! Read the first chapter of the series about the need for moving to short food chains in order to cut food waste: here.
NOTE:
 1. FAO, 2019. The State of Food and Agriculture 2019. Moving forward on food loss and waste reduction.
2.  FAO, 2019. The State of Food and Agriculture 2019. Moving forward on food loss and waste reduction.
3. Aschemann-Witzel et al., 2017. Key characteristics and success factors of supply chain initiatives tackling consumer-related food waste – A multiple case study.
4. Wansink et al., 2000. The Mystery of the Cabinet Castaway: Why We Buy Products We Never Use.
5. J.-P. Schweitzer, S. Gionfra, M. Pantzar, D. Mottershead, E. Watkins, F. Petsinaris, P. ten Brink, E. Ptak, C. Lacey and C. Janssens (2018) Unwrapped: How throwaway plastic is failing to solve Europe's food waste problem (and what we need to do instead). Institute for European Environmental Policy (IEEP), Brussels. A study by Zero Waste Europe and Friends of the Earth Europe for the Rethink Plastic Alliance.
6. Wikström et al., 2014. The influence of packaging attributes on consumer behaviour in food-packaging life cycle assessment studies – A neglected topic.