Are you ready for 2020? Our #WinterWasteWishes collection for a winter season, and a year, without waste!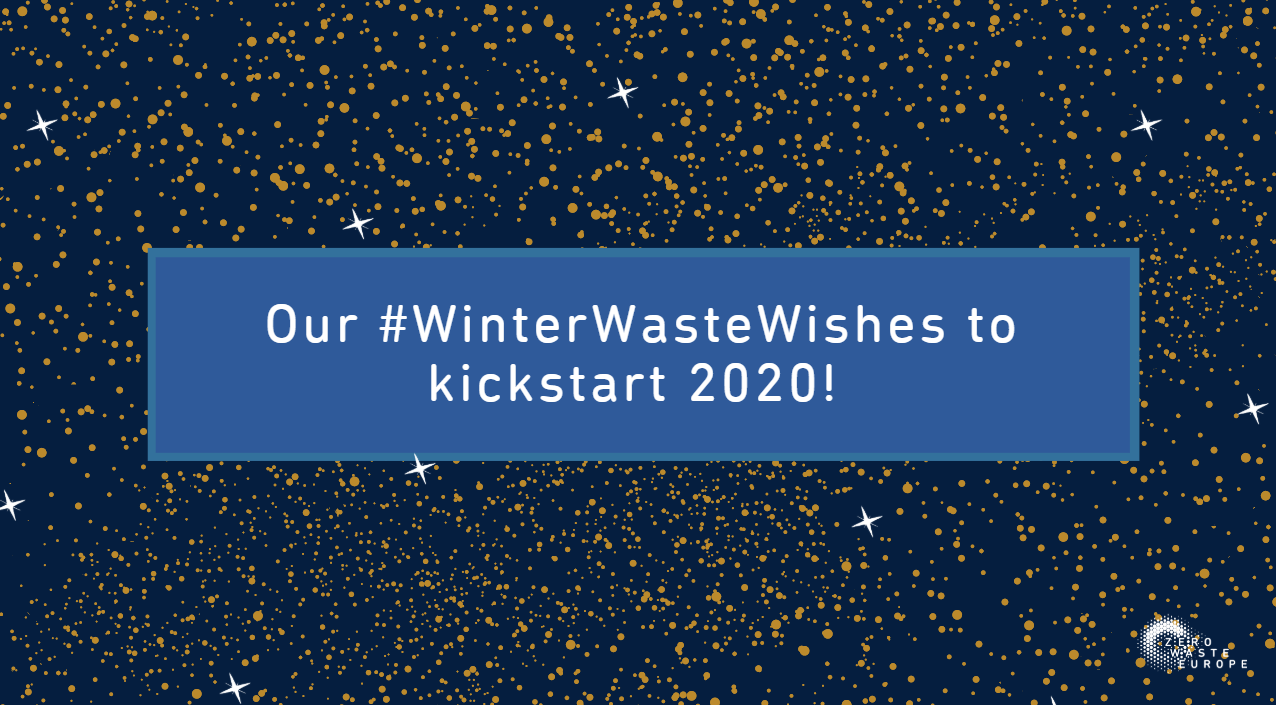 The beginning of a new year (and a new decade) represents for most the perfect moment to reprioritise our work, set goals for the months to come and imagine the year we would like to see and live. 
To help us in drafting our 2020 resolutions and kickstart the new year with the right foot, back in December, we teamed up with our Network to imagine together the changes we would like to see during the winter season, and beyond.
Are you ready to be inspired by our #WinterWasteWishes? 
We wish for…actions to better understand the connection between waste and the climate crisis.
Lorraine Wenzel, Pia Minixhofer, from Zero Waste Austria, and Matt Franklin from Break Free From Plastic set their hopes for a more conscious 2020 with all stakeholders involved and ready to tackle the climate crisis. 
Indeed, as the climate emergency speeds up at a worrying pace, the role that waste management, anti-incineration, and reduced plastic production play in lowering our global greenhouse gas emissions become more and more important. 
In 2020, we will keep working to address this issue, while constantly striving to emphasise the mutual benefits of a zero waste lifestyle for both the environment and the climate (read more about our actions to fight the climate crisis).
We wish for… a real change in European legislation to implement zero waste solutions.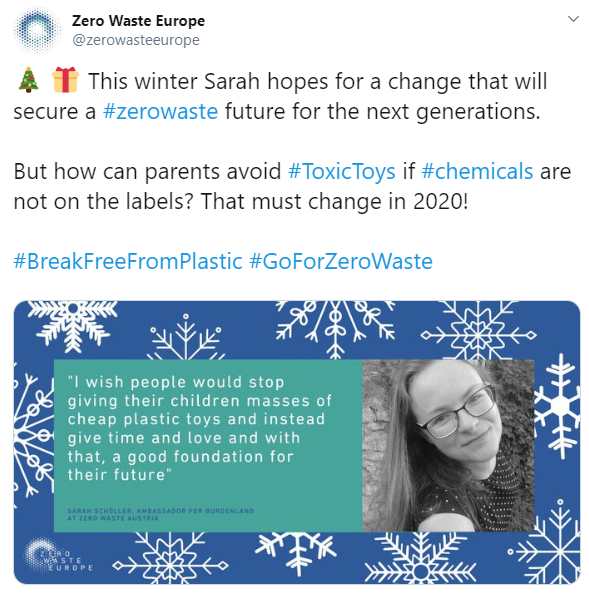 Justine Maillot, from the Rethink Plastic alliance and Sarah Scholer, from Zero Waste Austria, wished for ambitious and concrete measures under the EU Green Deal to ensure products and food packaging free from chemicals and other toxic substances. 
Read what we expect from the implementation of the new European Green Deal.
While Pierre Condamine, our Waste Policy Officer, is already working hard to make his wish of seeing separate collection of biowaste in every city come true. How? Check out some inspiring examples of zero waste cities across Europe.
We wish for… more reusable solutions to help us in reducing waste
Plastic has been the hottest environmental topic of the last few years, as we became increasingly aware of the impact  not only on our natural environment but also on our health. Although switching to a responsible use of plastics seems challenging in our everyday life, plastic-free solutions are possible and already available. 
Subash Biswas from GAIA Asia Pacific, Katja Sreš from Ekologi brez meja and our Iveta Cadrova and Janek Vahk provide us with some examples while calling for a year full of reusable alternatives.
Read our latest reports on reusables solutions and on the economic and environmental cost of single-use of sanitary items. But stay tuned, in 2020 we will add related reports to our library.
We wish for…better products' design and new innovative business models that allow reuse and repair
Our Cities Programme Coordinator, Jack McQuibban, made his winter waste wishes for a year full of innovative design and new business models to get closer to a zero waste future.
Keep an eye at our Consumption and Production page where we collect our work to make Jack's wish a reality. 
We wish for…a year without food waste
For many of us, the winter holidays have been synonymous of load of delicious, homemade food – but it has also been a time with a lot of food which ends up in the bin. Fighting food waste during the festive season is exactly what our Communication Officer, Eilidh Robb, wished for. 
However, this is something we should fight all year long. How? Check our briefing on the food systems We will soon publish a new case study on a successful business model who cut food waste across Europe! Do not miss it!
We wish for… a change of habits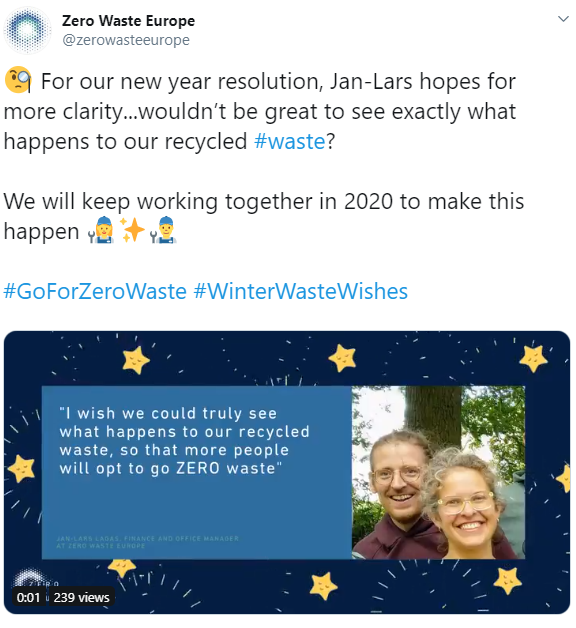 As we like to say within our Network, "zero waste is a journey, not a destination". On this path every action counts, as our Communications Coordinator, Agnese Marcon, reminded us with her wish about littering. Therefore, in 2020 we would like to see a change of habits in our daily life to be all a bit more conscious of the way we deal with our resources and what happens to our waste.
From our side, we will keep working to clarify what is happening to all the waste we produce as wished by Jan-Lars Lagas, calling institutions, businesses, and civil society to act to reduce it and walk with us on the path towards a zero waste future. 
We wish… to make this year about love
One of the best ways to show love and appreciation is actually giving our time and love to others because when we do so, we are giving a portion of your life that will never come back. 
For 2020,  Zaklina Znajder, Cesar Sanchez from Retorna, Laura Treimane from Zero Waste Latvija, Claire Arkin from GAIA, Kristina Helinger from Zero Waste Austria, Jorg Adamczewski from Zero Waste France and Larissa Copello from Zero Waste Europe, reminded us of the magic of spending time with others giving love, hugs or cookies and to value it as much as something you can buy in the shops.
With the launch of the European Green Deal, the EU Circular Economy Action Package 2.0 and the deadline for national governments to transpose the EU Waste Framework Directive into law, 2020 is going to be a hugely important year, and we can't wait to turn our 2020 resolution into actions, as together we have the power to turn the tide and make zero waste solutions the norm.
New legislation, zero waste cities and innovative business models are already showing the way to approach the future we are imagining.
Our sincere promise for 2020 is to keep working together with other NGOs, cities, communities, business, public authorities and institutions to make all these wishes come true!