Meet our members – Let's do it Macedonia!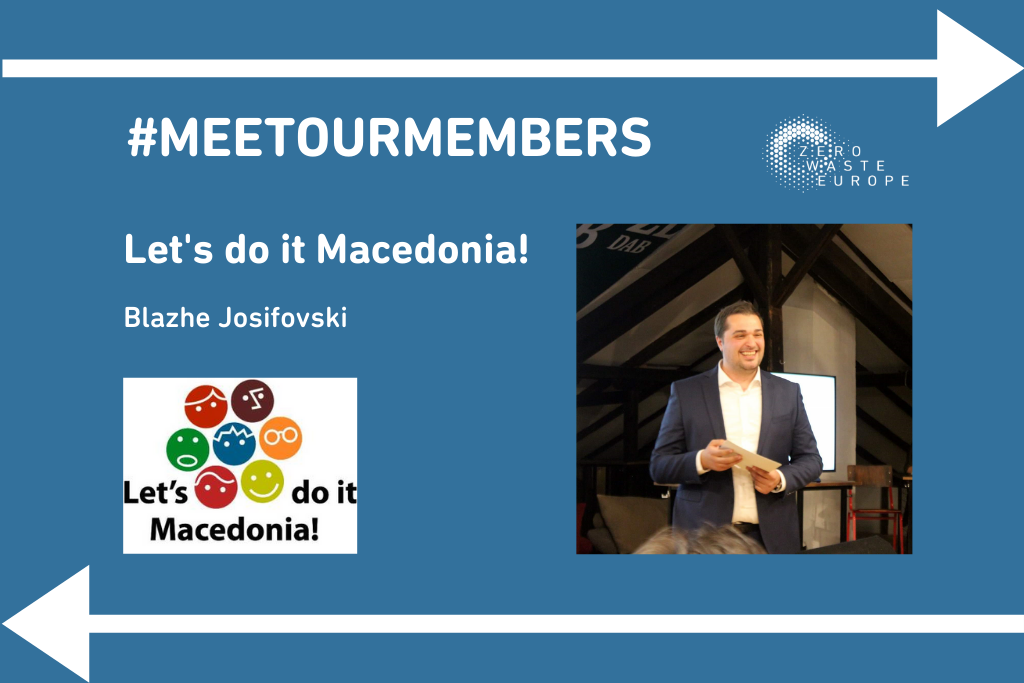 Zero Waste Europe is happy to introduce the blog series "Meet our members". Through this series of monthly interviews, we want to give you a chance to get to know our members and the work they are doing.
---
Meet Blazhe Josifovski from Let's do it Macedonia!, North Macedonia
Hi Blazhe, can you give us a brief introduction to Let's do it Macedonia!?
The organisation was created in order to clean the country from the 2000 illegal landfills and raise awareness on the issue of waste. After five successful national clean-ups which involved around 100,000 volunteers, we decided to focus on waste prevention, rather than just dealing with its consequences.
We targeted food waste as it was the largest waste stream in the country. With more than 25% of solid waste produced in Macedonia being organic waste and 40% of that being food waste. We noticed too, that food waste was the only resource that people did not consider disposable. The moral rule: "you don't throw food", was still working for a lot of people.
Seeing food waste prevention as an opportunity to help not only environmentally, but also socially, convinced us to start researching implications of food waste. The first information we found was that one-fourth of the country is suffering from hunger, while at the same time we throw 100,000 tonnes of perfectly good food, mostly coming from agricultural surpluses.
This illogical fact, motivated us to create a web platform that connects businesses with NGO's, by redistributing the food surplus. We also succeed in our efforts to get the first Food Surplus Donation Law in Macedonia.
This work and much more has been our focus  in order to see Macedonia as a country where good food is not going to waste.
How long have you been in the field and what got you into (Zero) Waste?
I have been in Let's do it Macedonia, since its beginnings in 2012. We started to follow zero waste principles in 2016. We got into the field of zero waste because it is the only way we have to fight back against the mess we've got ourselves in, regarding the global waste catastrophe.
What is your current role in the organisation?
I'm the President of the organisation.
Tell us more about one ongoing campaign/activity you're working on?
At the moment we are involved in creating the first National Food Loss and Waste Prevention Strategy in Macedonia.
If there was one thing that you would like your organisation to be known for, what would it be?
Feeding 10,000 people and the Peach Fest. The charitable Peach Fest was held for the first time in Skopje, where some 20,000 meals were cooked for socially vulnerable citizens. Those actions have been very successful.
How would you describe the growth of the Zero Waste movement in your country?
It is small and develops slowly, but it will come with time.
Macedonia is a place  where good food is not wasted.
You can find more about Let's do it Macedonia, and their work here.