What happened at COP25 in Madrid?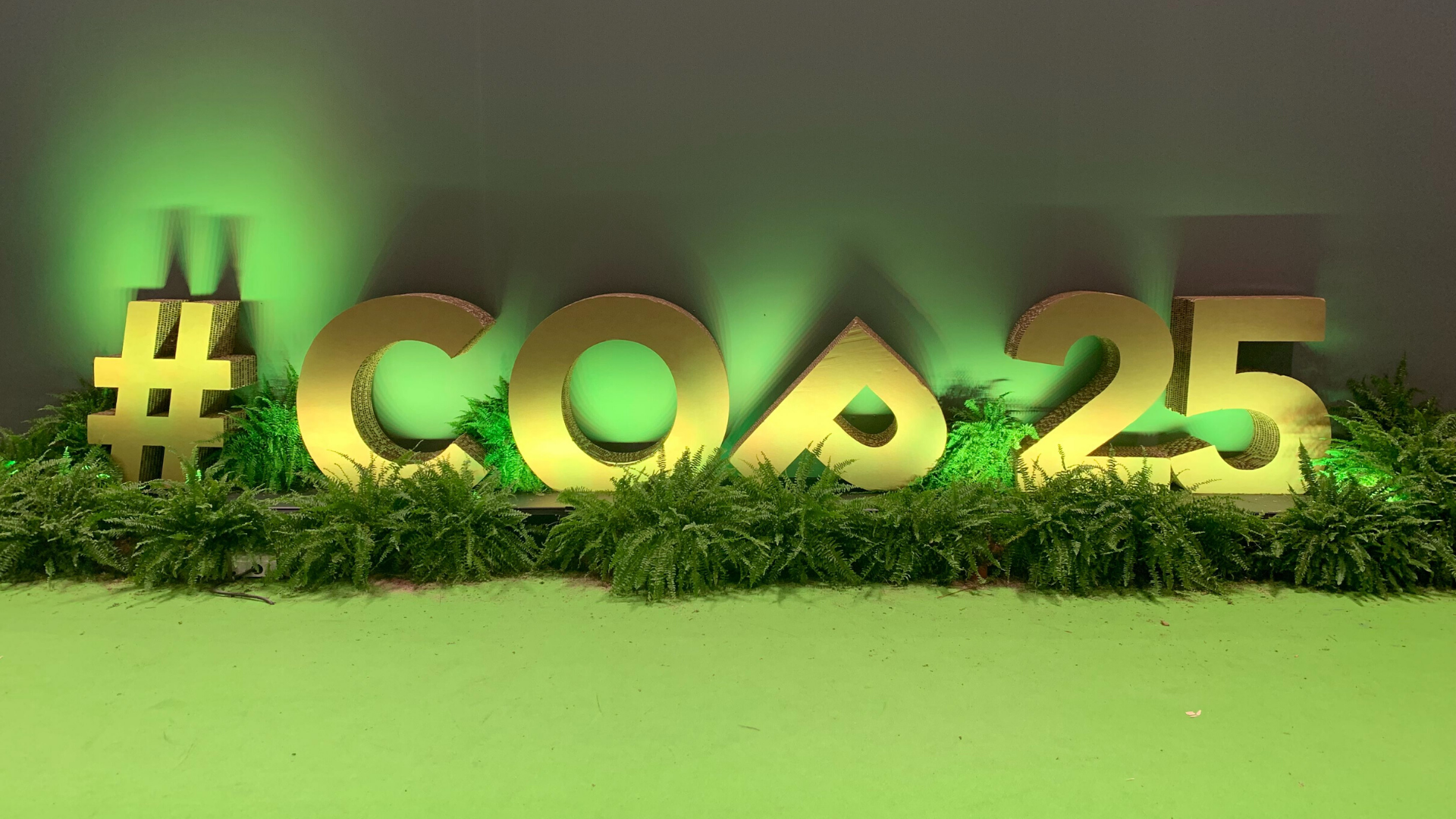 The COP25 sign reflecting the extra-long COP this year!
The United Nations Framework Convention on Climate Change (UNFCCC) is the international platform set up to create global environmental treaties to govern on what was then called global warming, but what is now understood to be the global climate emergency. This year the negotiations were set to take place in Santiago, Chile, right up until October 30th when Chilean President Piñera announced that as a result of extreme civil unrest and protest in Chile, COP25 would have to be moved – and Madrid, Spain stepped up as host.
COP25 was set to be a crucial negotiation period for finalising the rulebook of the Paris Agreement – the detailed implementation aspects within the Paris Agreement that would translate its goals and aims into tangible work programmes and actions. But with a last minute continent shift, the USA pulling out, and mounting civil society pressure on the need to take bold action in the face of the climate crisis – the stakes couldn't have been higher. 
The status of the rulebook 
The key challenges for this years COP were to agree on the details of Loss and Damage and Climate Markets – two leftover topics from previous negotiations, and unsurprisingly two of the most contentious. 
Loss and Damage refers to an article in the Paris Agreement which addresses the inequality of the climate crisis – recognising that many countries (predominantly in the global south) are already, and expected to be more severely impacted by changing climates than others (predominantly in the global north). Loss and Damage seeks to provide some sort of compensation for those who will have higher adaptation, recovery and forced migration costs as a result of the climate crisis. 
The problem? Until COP25 no financial mechanism was in place to actually provide this funding. For vulnerable countries, financial commitments to Loss and Damage are critical, but there is resistance from rich countries to make binding commitments to this for fear of additional liability that could be placed on them in the form of lawsuits. In the end, COP25 ended up with some non-binding agreements that 'urge' countries to give money, and some promises to build support programmes in the future. However, this work will carry over into COP26 to decide on the governance of the Warsaw International Mechanism, under which Loss and Damage sits. 
Carbon Markets have been the source of highly complex negotiations under the Paris Agreement since 2015. Carbon Markets refer to a global scheme to regulate carbon by supplying permits that can be traded on a market which, if priced right, could drive down international carbon emissions by making the cost of avoiding pollution cheaper than the costs of paying to pollute. However, the reality has proved far more complex. Last year Brazil made it clear that they felt that the Amazon entitled them to more credits because of the role they play as a carbon sink, while other countries like Australia revealed that they wished to carry over credits from the mostly disregarded Kyoto Protocol. Clearly these negotiations are technically challenging, with many concerned that Carbon Markets give licence to continue polluting, while others are concerned that unless carefully implemented they may make to impact at all. As a result, COP25 reached no agreement and the discussions will be passed onto future negotiations. 
Air pollution pods, set up as an interactive display inside the COP25 space.
What other key themes came out of COP25? 
This year saw a wider focus on nature based solutions which recognise the role of nature in combating emissions, through conservation, reforestation and biodiversity. Similarly, the ocean was brought to the forefront this year with COP25 advertised as the Blue-COP. Yet, these important themes didn't necessarily equate to tangible action or policy, rather they helped frame discussions and solutions for COP26 next year in Glasgow, Scotland, where countries will present their Nationally Determined Contributions (NDCs) and how they plan to achieve them.  
What can definitely be said about COP25 is that civil society presence could not have been stronger. Young people took centre stage this year with Greta Thunberg at the lead. As a result, countries signed a declaration calling for more youth involvement and youth strikers across the world came together to call for higher ambition. And this year, saw an increased focus on indigenous voices and global south youth out of recognition that many were unable to attend this year's COP due to the sudden location change – notably Greta Thunberg encouraged media to focus on other youth activists, and in particular those from frontline communities. 
Similarly, civil society heavily protested fossil fuel representatives presence at COP25. With some of the biggest polluters sponsoring the summit. Collectively, civil society have been ramping up the pressure on global climate action and this year their actions definitely left a lasting impression.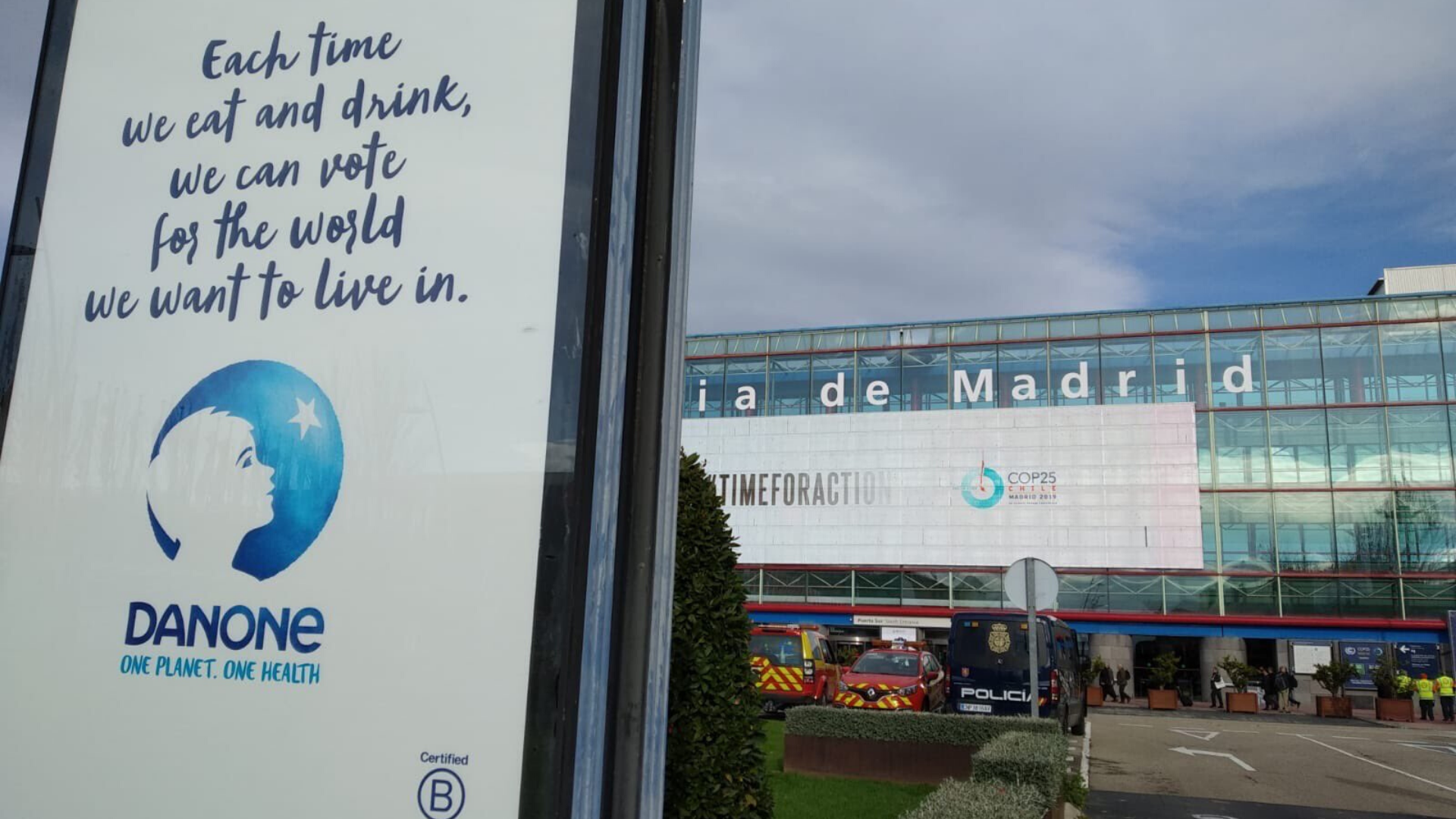 Danone, responsible for significant plastic pollution and production, advertising front and centre outside the COP25 event space.
What was forgotten? 
Despite being one of the longest COP's on record, with so much energy being poured into controversial finance agreements, there were bound to be some critical aspects left behind. Unfortunately, it was the social aspects of the climate emergency that lay forgotten. Despite civil society efforts on the contrary, it seemed that a focus on gender justice and human rights, was silenced from negotiations this year. And there seems to be work to be done within the COP space itself to lower its environmental impact. 
And, although no surprise, there was a failure to address the connections between plastic and waste to the climate crisis. Despite being critical players in discussions around emissions reduction, both issues were notably absent from COP25, and have been absent from the negotiations for years. Although many of our members worked hard to introduce this narrative, it's clear more work needs to be done to draw in all the important environmental aspects of the climate crisis that need to be addressed as part of the solution.
Empty meeting room inside the COP25 space.
So what now? 
For Europe it seems there is still a lot of work to be done if we want to meet our 2030 climate change targets and with delays at the global level, it seems that initiative may need to come directly from the European Union. With the announcement of the European Green Deal, we can expect some progress but will it happen fast enough, and will it involve all necessary sectors of society? 
This is a challenge that will need to be fought across the world, on all fronts, and we recognise the important role Zero Waste Europe and its members  play in tackling climate change through the proper management of resources.