Meet our members – Polish Zero Waste Association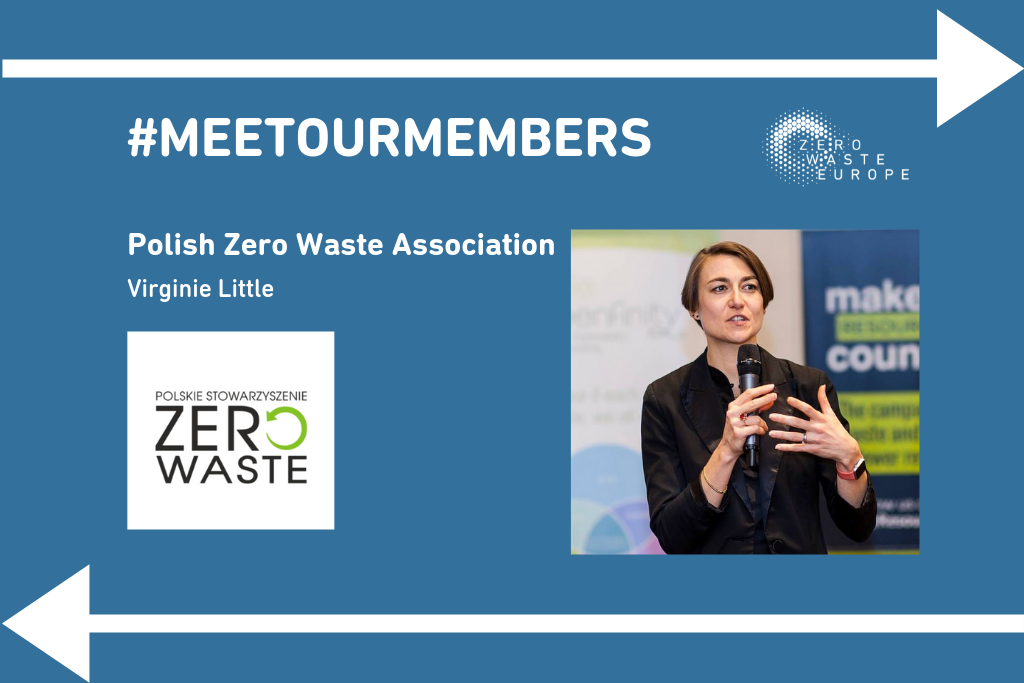 Zero Waste Europe is happy to introduce the blog series "Meet our members". Through this series of monthly interviews, we want to give you a chance to get to know our members and the work they are doing.
---
Meet Virginie Little 
from Polish Zero Waste Association
Hi Virginie, can you give us a brief introduction to Polish Zero Waste Association's focus?
Polish Zero Waste Association (PSZW) is a young but very dynamic organisation. Our President, Aleksandra Niewczas, started to gather people interested in the Zero Waste lifestyle in Poland through Facebook 3 years ago. PSZW was officially created a little over 2 years ago – we actually celebrated the anniversary of the Association in March! All the 15 members of PSZW are volunteers. Indeed, the Association doesn't have employees yet, but this is definitely one of our goals. Beside the formal members of the Association, we manage nationwide and local Facebook groups gathering over 70 000 members! We have decided to focus our actions on Zero Waste lifestyle and education to reduce generated waste by citizens and businesses. PSZW works has a partnership with Polish Association For the Earth (TNZ) – a Zero Waste Europe aspirant member – which seeks to influence decision-makers at the municipalities level by fighting against incineration and working on waste management solutions in Poland. We also conduct nationwide campaigns, workshops, and we have organised our first Festival Zero Waste in April in Krakow this year (yeeehh!).
How long have you been in the field and what got you into (Zero) Waste?
I have always been sensitive to nature and the environment, and I think my family has always been a reasonable consumer. However, we really got interested in reducing our impact on the environment and starting our Zero Waste journey about 4 years ago. I think our journey went smoothly and fast because both, my husband and I were very interested and motivated while our kids were still young (they are today 7 and 9 years old), so it was relatively easy to change our mindset as individuals and as a family. However, we suddenly discover that going fully "Zero Waste" wasn't as easy as changing our mindsets. Indeed, Poland didn't have and still doesn't have all the solutions for zero wasters. In the meanwhile, I started a small consulting company in sustainability which DNA is definitively Zero Waste, and naturally, I have joined PSZW from its very beginning.
What is your current role in your organisation?
As we are still functioning on a 100% volunteering formula, I would say that all the members have almost the same role: raising awareness about waste reduction – most of the time in our city, but we do travel if needed – by taking part in events, workshops and contacting medias or possible partners. Some members are also project/campaign leaders as well. As for myself, with some other members, I  am more in charge of the media contacts, conducting workshops, plus I am often perceived as the "food waste expert" as I am a fierce food waste fighter.
Tell us more about one ongoing campaign/activity you're working on?
I would rather describe myself as a "generalist", rather than a person dedicated to a specific action or campaign. I help to propagate the Zero Waste lifestyle and to make citizen and municipalities understand why it is crucial to prevent waste generation in the first place rather than doing a better job at recycling.
For every kilo, we generate at home – 7 kilos of waste have been generated before on the chain.
If there was one thing that you would like your organisation to be known for, what would it be?
Well, we are already quite known for the great advertising spot we contributed to making, with the claim "Zero Waste Revolution" – the spot has been translated in English – and you watch it: here!
Beside that, I am very proud of the concrete achievements of our young Association thanks to its highly committed members that PSZW has already on its account. I would also like to mention two campaigns that have been a real success and that helped in teaching how we can easily reduce waste: #WithMyOwnCup (#ZwlasnymKubkiem), Hello Wiello and the actions Repair Café.
The #WithMyOwnCup campaign convinced over 400 cafes all around Poland to offer a discount to customers buying coffee or tea to go with their own cup. It may seem a little thing to our Zero Waste friends from other countries, but, in Poland, even just a year ago, it was very difficult to get a drink in a reusable cup. Many cafes and restaurants, not only don't understand why some customers do not want to use single-use cup but are afraid of hygiene controls.
Hello Wiello was a campaign of workshops for future parents to promote reusable diapers.
PSZW has also organised several very successful Repair Café session in Warsaw.
When people minimise the single-use article "because … it is convenient!" I usually say: "The best waste, is the one that hasn't been generated" or while being sarcastic "it is just a straw, say 5 billion people.
How would you describe the growth of the Zero Waste movement in your country?
What is your perspective for the future?
The Zero Waste movement in Poland is growing very dynamically. It is amazing! More and more people are interested in living a less waste lifestyle ( "zero" waste could be overwhelming for most at the beginning) and more and more businesses are also interested in educating their employees and changing some of their actions with more sustainable ones. Of course, we still have a long way to go as the average awareness is still fairly low in Poland, and at a political level, we really need changemakers and people with a vision about Zero Waste in building a circular economy and as a solution to waste management. But, as an optimist person, I look at some countries – such as France – where the movement is very spread out and where we can truly see the beginning of a bottom-up Zero Waste revolution.
Thank you very much, Virginie! Could you share with us an inspiring quote?
Depending on the situation, I mention inspiring quotes and impressive statistics that help people to understand why waste is a problem. I always finish my talks or workshops by showing how together we can change the world.
Together we change the world for better, even if it is only one straw at a time. The most important is to start!
You can find more about Polish Zero Waste Association and their work here.