"A Fistful of Rubbish": a new Western documentary set in the Tabernas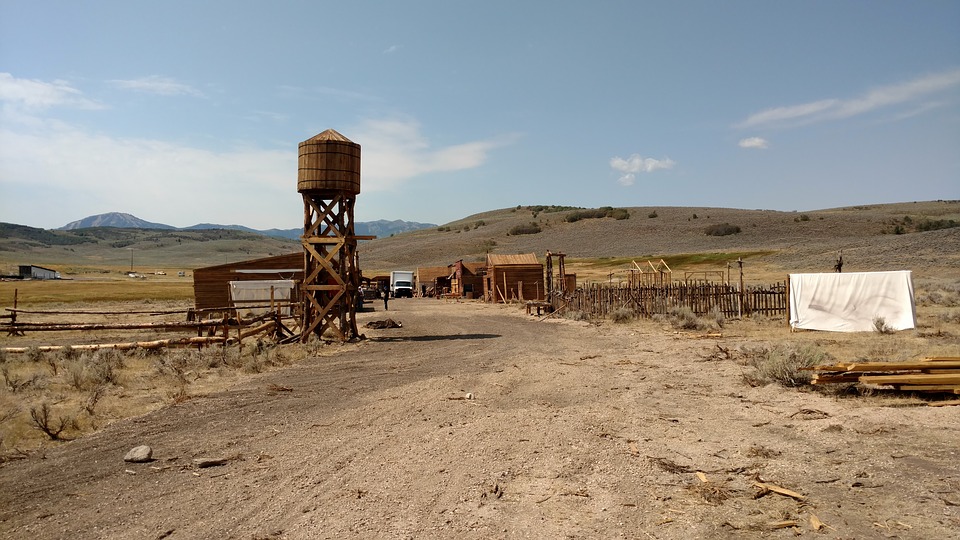 A Fistful of Rubbish is a short documentary about a clean-up campaign happening in the Tabernas Desert in the South of Spain. The Tabernas is Europe's only desert; its landscape is unique and when it isn't blisteringly hot, it is easy to see how the magic of its rocky twists, raggedy outcrops, and dusty nooks attract people from all over the world.
In the 1960s it began to be used as a location for Sergio Leone's famous Spaghetti Western trilogy – A Fistful of Dollars, For a Few Dollars More and The Good, The Bad and The Ugly. Some of the film sets are still there, and there is a feeling of pride for the rich history that this area has in popular culture. Unfortunately, this pride does not always extend to the countryside itself, and many people do not care about this unique environment, and instead choose to dump household waste, building materials and all types of rubbish.
But now, with the help of some locals, a new cowboy in town is trying to change the situation. David Regos and his team are filming a new documentary. With a mix of interviews and western stylized cinematography/music they tell us the story of the clean-up campaign happening in desert.
We interviewed David Regos to learn more about this inspiring project!
Hi, David, could you tell us when have you discovered the Tabernas deserts? And how did the idea of making this documentary came to your mind?
When I moved to Spain in 2016 I started researching what environmental issues the country was facing. Eventually I came across an article about an Englishman trying to clean up areas that were full of rubbish in the desert in the south of Spain right by where they filmed the famous Spaghetti Westerns. When I discovered that the original old film sets were still there, very close to where all the trash was, I decided that it would be interesting to try and make a grassroots environmental film and blend it with stylistic elements of the types of classic Westerns that were filmed there.
As for you, what got you into environmental issues, plastic pollution and waste?
Before moving to Spain I was living in the USA, and I produced an environmental documentary called "Divide in Concord". The film follows the story of an 84-year-old grandmother in a small town that went on a three year mission to ban single-serve bottled water in her town. I didn't know much about the issue of plastic pollution or waste before I started this project. Director Kris Kaczor asked if I wanted to be involved and it sounded like it could be a pioneering, historical story to tell. The more we filmed, the more I learned about the problems with single-use plastics and bottled-water – from production to extraction, to disposal. The experience showed me the power of local activism and the ability for communities to take action on a cause they believed in. I met some wonderful people, not only throughout the production but also at film festivals, who realized the power of storytelling to get important messages across about saving the planet. I decided I wanted to continue to be a part of this inspiring world.
Could you give us an overview of the waste crisis in the deserts? In your opinion, what turned the famous desert of Sergio Leone's classic films into a rubbish dump?
We know this world is sick, and all creation is suffering from it
Antonio (pastor)
The ramblas, the dry riverbeds that are used as roads and paths around the desert, have been popular places to fly-tip and dump everything from refrigerators to mattresses to building materials. There are rusted old cans that appear to have been there for decades. There are glass bottles that have been warped by years in the sun. According to locals, in the olden days it would have been limited to mostly organic matter, small amounts that would have decomposed. But it seems the old ways have not progressed and the area is being treated by many as a landfill. For some people, they do not want to have to pay to have their large rubbish collected or properly disposed of. For others it is simply a lack of education – perhaps they do not know where they are supposed to dump their trash. They see others dump it in the desert and they do the same. Over time it has accumulated and hasn't been properly addressed. In general, it is a lack of consciousness and respect for natural spaces.
What do you identify as the main challenge to actually reduce waste in the Tabernas desert?
The main challenge is changing the consciousness of people not just in Tabernas, but everywhere. It is also challenging to get the authorities on all levels to take the matter more seriously, to act swiftly, and to put more resources into cleanup campaigns, education and policing. If it is not seen as such a big problem, then not much will be done to fix it. Furthermore, there needs to be a greater emphasis on reducing waste in the first place and following the mantra of Refuse, Reduce, Reuse, Recycle – in that order. There needs to be more initiatives to encourage this behavioural change.
 Someone has to do something so why not me?
Julian Phillips (cleanup hero)
What were the reactions of the local community and the municipality to your ongoing campaign? What were the main obstacles you faced?
When Julian Phillips started the campaign it was not met with a lot of enthusiasm. For a few of the clean-ups, the mayor of Tabernas has assisted by providing containers and cleaning resources.  Julian formed an official non-profit organisation (P3 Ambiental) and applied for assistance from the Junta, but to date has received little support. Fortunately, there have been some who live in the area who recognize there is a problems and have volunteered for the clean-ups. But the obstacles are still that not enough people care or think that it is such a big issue. Nobody is getting caught and fined. There is no great sense of urgency in regard to environmental degradation. After launching the crowdfunding campaign to finish the film we've been met mostly with support, but also with claims that the problem is being exaggerated. Most of the desert is clean they say. Logically where there are no people, there is no trash. It's true that thanks to the efforts of volunteers the situation has possibly improved slightly. Julian and his team have cleaned up over 52 tons of rubbish. But a recent report from El Diario del Almeria has shown that there is no shortage of garbage still strewn about, some of it having lay dormant for years.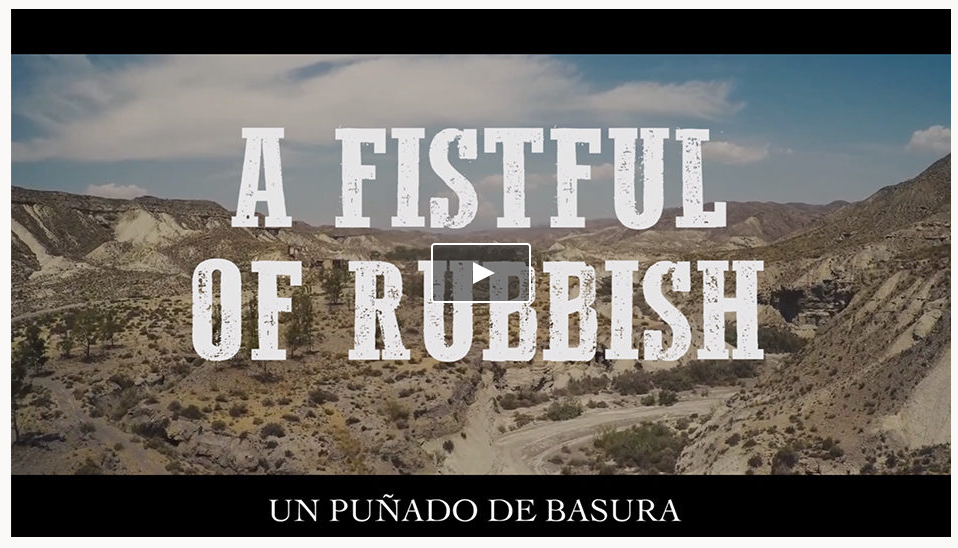 "The best way to describe a cowboy is mud, blood, and glory"…not waste! But, during the trailer we see cowboys fighting against waste. How your documentary could actually also become "a cowboy" and help in solving the problem of waste in the Tabernas?
A cowboy is an outsider, a hero who comes into a new place and shakes things up a bit. It is someone who is willing to get his or her hands dirty and fight for what they believe in. They are brave and courageous, facing challenges and overcoming obstacles. There is an enemy that they battle in order to uphold what is righteous and just. Sometimes the cowboy has an ally or a posse that believes in their mission. Indeed, the metaphor for this film is that when there is a bad situation, there are actions that can be taken so that right triumphs over wrong. The cowboy and his allies will bring peace to the land and its people. This film could create an awareness of the issue of waste and disrespect for nature, and pave the way for an increased consciousness about this unique environment.
The goal is to raise awareness, to encourage solutions, to shed light on a problem that lies deeper than the bottles and cans, broken televisions and mattresses that lie on the surface. The goal is for people to care again, to remember and honour what nature provides for all beings on this planet. The problem of waste is evident the world over and bleak environmental stories are rampant. But the more people see the power of local activism, the more people can be encouraged to take part in being part of the solution.
When will the movie be released and what will be the future of the environmental cowboys?
The film will start its film festival run later on this year, and then will be available in 2020. The future is bright for environmental cowboys all over the world. Julian has said he will not stop until there is no more rubbish in the desert. But he needs help and resources.
Curious to know more about the documentary? Have a look at the website