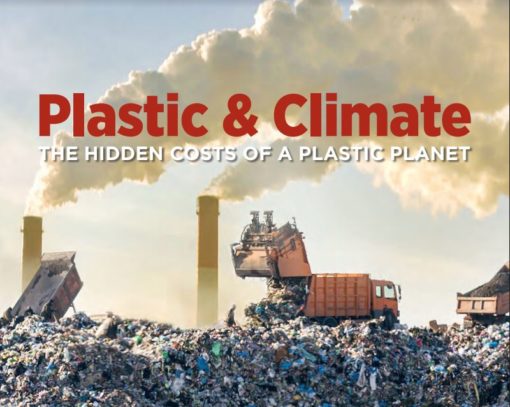 Plastic is a Part of the Global Climate Crisis Hiding in Plain Sight
Plastic has made the headlines over the last couple of years as a key environmental challenge, but did you know that the plastic pollution crisis that overwhelms our lands and oceans is also a significant threat to the Earth's climate?
Almost every single piece of plastic begins as a fossil fuel, and greenhouse gases are emitted at each of the stages of plastics lifecycle: from extraction and transport of fossil fuels, to manufacture and production, to waste processing and beyond.
In 2019, the production and incineration of plastics will add an estimated 859 million metric tons of greenhouse gases (GHG) to the atmosphere, and with the petrochemical and plastic industries planning a massive expansion in production, plastic might be responsible for the emission of over 56 billion metric tons of carbon dioxide by 2050. This massive and rapid expansion in GHG from petrochemical and plastics production threatens the achievement of the EU net zero emissions goal by 2050.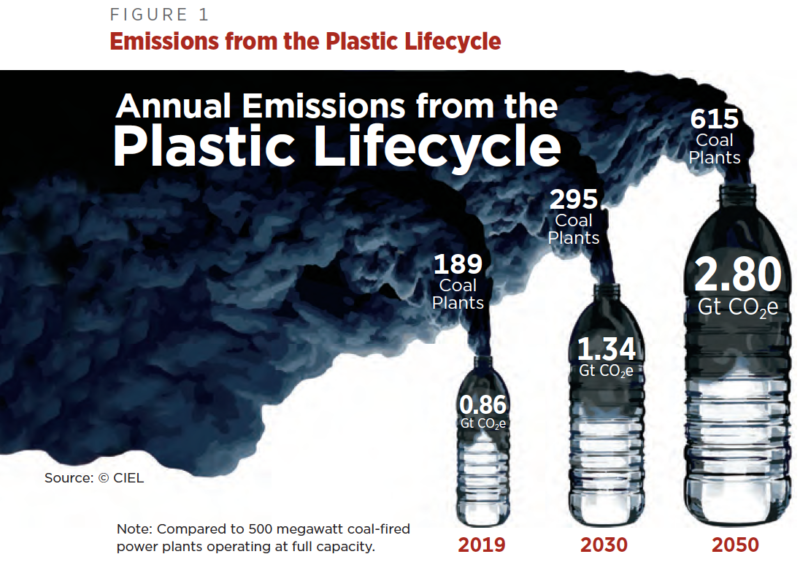 Indeed, in November 2018, the European Commission presented the new EU 2050 – long term climate strategy for a prosperous and climate-neutral economy, stating that the EU should reach net 0% greenhouse emissions by 2050. Even though the strategy identifies plastic as part of the current environmental crisis, the different paths implemented to reach this ambitious goal are still under discussion, and they often lack proper consideration how each stage of the plastics lifecycle affects the environment, the climate, and human health.
To address this urgent issue, the Center for International Environmental Law (CIEL) released today an extensive report analysing how each stage of the plastics lifecycle affects the climate and identifying the major sources of GHG emissions, sources of uncounted emissions, and uncertainties that can lead to underestimations.
Particularly, the report analyses how various techniques used to manage plastic waste contribute differently to plastic's GHG emissions profile. Plastic is landfilled, recycled, or incinerated. Landfilling emits the least greenhouse gases on an absolute level, although it presents significant other risks. Recycling has a moderate emissions profile, but it displaces new virgin plastic on the market, while incineration leads to extremely high emissions.
As mentioned, the end of life of plastics does not mean end of their impact. While manufacturers are claiming that incineration could represent a solution to reduce plastic pollution without raising the level of toxic emission, CIEL's report clearly reveals that incineration leads to remarkably high GHG emissions, and is the primary driver of emissions from plastic waste management. Indeed, according to the report, net greenhouse gas emissions attributable to the incineration of plastic packaging are estimated to be 16 million metric tons in 2015.
Finally, both chemical recycling and waste-to-energy initiatives that turn waste plastics into new petrochemical feedstocks or burn them as fuels could significantly increase greenhouse gas emissions while simultaneously increasing toxic exposures for communities near incinerators. Such operations transfer the threat of plastic from the oceans to the air, while compounding its climate impacts. This is the very definition of a false solution.
Moreover, the report warns that also other disposal methods such as plastics to fuels could have a significant impact in terms of GHG emissions.  As highlighted by Zero Waste Europe's joint briefing with Bellona, there are major concerns regarding the production of fuels from non-renewable waste streams – such as plastic –  as they could have harmful effects on both climate change mitigation and circular economy measures. Accordingly, it is important that the European Commission develops a legislative framework that excludes the use of plastics waste fuels, as they don't represent a possible solution either to the climate crisis nor the plastic pollution issue, while they actually risk to exacerbate both.
Fortunately, burning our waste – and especially plastics components –  is not the only path forward, and the Zero Waste approach is gaining traction. Indeed, the report also includes a set of recommendations for policymakers and other stakeholders to help stop these runaway carbon emissions hidden in the plastic lifecycle, and to support a Zero Waste systemic approach to waste prevention and reduction.
Ultimately, any solution that reduces plastic production and use is a strong strategy for addressing the climate impacts of the plastic lifecycle. These solutions require urgent support by policymakers and philanthropic funders and action by global grassroots movements. Nothing short of stopping the expansion of petrochemical and plastic production and keeping fossil fuels in the ground will create the surest and most effective reductions in the climate impacts from the plastic lifecycle.
Overall, the key findings of the report are clear: plastic threatens the climate on a global scale, and burning it could only exacerbate the problem. To stop the climate impact of plastic, urgent and ambitious action is necessary. Therefore, Zero Waste Europe urges to focus on waste management solutions at the top of the waste hierarchy. The strategies with the greatest potential for reducing both climate and environmental risks of plastics include: setting a range of EU-wide waste prevention policies to end the production and use of single-use disposable plastic, supporting new waste-free business models, and fostering the transition to a fully circular economy.
Resources:
The report is the results of joints effort by Global Alliance for Incinerator Alternatives (GAIA), #breakfreefromplastic,  Environmental Integrity Project, FracTracker Alliance, and 5 Gyres under the coordination of  Center for International Environmental Law (CIEL)