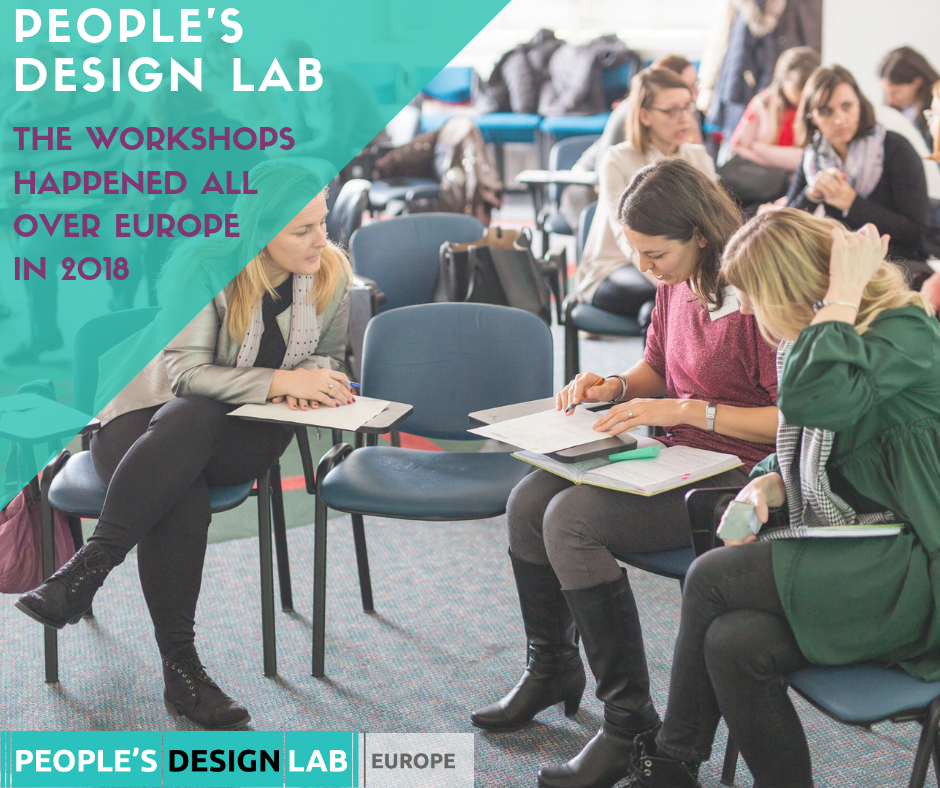 From Cyprus to Slovenia – the People's Design Lab workshops made waves all over Europe!
Waste is just a symptom, if we want to fix the problem we have to focus on the source, creating a world where everything is designed for repair, reuse and recycling. The People's Design Lab will facilitate the involvement of citizens in highlighting problematic design and finding creative and innovative solutions.
Delphine Lévi Alvarès, European coordinator of the #BreakFreeFromPlastic movement and of the 'Rethink Plastic' Alliance', Zero Waste Europe
The People's Design Lab, a Zero Waste Europe project, was created with the objective to raise awareness about the increasing production of wasteful items that cannot be reused, repaired, recycled or composted. With more people becoming aware of this problem every year, the Lab allows citizens to be part of the growing movement opposing the planet's limited resources use for products designed for trash.
The platform is also a place to explain complex things, such as product design, in a visual and easy to understand way and by doing so empowering citizens to address governments and industries who create "stuff" for the sake of it, to rethink their strategies.
Citizens from all over the world took part in three Redesign Europe Challenges, which aimed at identifying the most wasteful products in the market. Some inspiring results of the previous campaigns are the stories of ReCircle as an alternative to Styrofoam and single-use containers (contest 2016) and the cotton bags sponsored during the Plastic Bag Free Day  – a raising awareness campaign on the negative impact of plastic bags on the environment (2017).
For the third consecutive year, in 2018, The People's Design Lab launched a contest structured in two phases:
1.  Contest Online: citizens from all over the world were asked to vote for the most wasteful products in four different categories.
The most "hated" items in 2018 were:
Plastic bags, Design for trash category

Plastic bottles, Single use plastic category

Plastic food packaging, Over packaging category

Food contact material, Toxic product category
2.  Synchronised workshops were held across Europe allowing a wide range of stakeholders (citizens, designers, entrepreneurs, public authorities, NGOs and associations' workers) to take part in re-imagining products design in a zero waste way.
People taking action! Let's recap what happened during the workshops…
Cyprus – Limassol – Friends of the Earth
The People's Design Lab workshop was held in Limassol, Cyprus, at the office of our member Friends of the Earth. During the event, the participants had the opportunity to attend lectures and presentations of three speakers having valuable knowledge in Circular Economy, waste management practices and policies development: Mr Giannos Kakoullis, member of the Friends of the Earth Cyprus and Board Member of the Cyprus Scientific and Technical Chamber in Limassol, Mr Charalampos Theopemptou, member of the Cyprus Parliament, engaged in the new directives for waste management that are expected to be voted in June 2019 and Mr Alexandros Ioannou Peletie who is a founder of TESURA, an organisation that promotes art derived from different waste materials.  
Germany – Berlin – Circular Berlin
Circular Berlin held a workshops on waste remanufacture, upcycling, repair and reuse. The event was attended by 67 participants from local NGOs, organisations involved in reuse or remanufacture, co-working areas, academia, design, housing companies, funding institutions, and the public sector. The workshop aimed at identifying what type of materials are more easily reused and remanufactured locally, how to engage Berlin local community in this process identifying the existing skills and potentials and how to professionalise the work around waste prevention while using waste as a resource. The mood during the event was vibrant and collaborative and it seemed to result in the creation of a new network among the participants who are now in touch with each other to make these ideas into reality.
Hungary – Budapest –  Humusz
Our member, Humusz Waste Prevention Alliance, organised the "Eco-friendly Product Design Workshop" during the "Buy Nothing Day" (23/11/2018). The workshop was divided in two parts: first, several experts from national institutions, NGOs, associations and local business gave a short introduction about different single use plastic products (e.g. plastic cups or sanitary items) then, participants shared their own environmentally friendly alternatives to those products (such as refillable coffee cups or menstrual cups). The results of the workshops were shared on social media through some infographics reaching more than 5000 people.  
Romania – Bucharest – Zero Waste Romania
More than 30 people have taken part in the workshop "Single use of plastic: alternatives, obstacles and opportunities" organized by our member Zero Waste Romania. The participants have collectively identified some non-toxic, sustainable, reusable, repairable, biodegradable or recyclable alternatives to some plastic products such as bags, bottles, straws, cutlery, plastic packaging and sanitary items. They identified advantages and disadvantages of: reusable items (e.g. metal or wood cutlery or menstrual cups) and compostable ones (e.g. cereal straw or cardboard cups). Finally, they listed possible ways to promote these alternatives in order to be adopted by other citizens, and they highlighted possible strategies to push institutions, at the national and European level, and businesses to start the transition to a Circular Economy based on eco-design.
Slovenia – Ljubljana – Ecologist Without Borders
The workshop organized by our member Ecologist Without Borders,  took place in cooperation with the Slovenian Ministry of Environment and Spatial Planning and was attended by 26 decision makers from the Ministry of Economic Development and Technology, Government Communication Office, Government Office for Development and European Cohesion Policy and several municipalities. The goal was to present alternatives in order to reduce waste in public administration buildings (e.g. separate waste collection, ban of single use plastic products etc.). Examples of good and bad practices in public institutions have been shared to start a brainstorming on how to reduce the waste sources step by step. The results of the workshops were drafted in several graphics later shared on social media along with a guide on how to reduce food waste, single use coffee cups, paper and plastic bottles/cups in the administrative workplaces.
…And now? Be inspired!
The success of the People's Design Lab workshops across Europe clearly demonstrates the need for a stronger policy push that will ensure the cease of wasteful and toxic products. Zero Waste Europe is putting the efforts of People Design Lab together to turn these inspiring ideas into reality and push for a more sustainable future. This process aims at empowering communities and European Institutions to rethink and redesign their relationship with plastic products and adopt more environmentally friendly designs while encouraging the use of reusable products.  
The road to a zero waste future is still long and uphill… But, positive change is contagious! Stay informed and be inspired by the great work of like-minded people!
Visit the People Design Lab webpage: here!