Does Plastic Make Us Sick?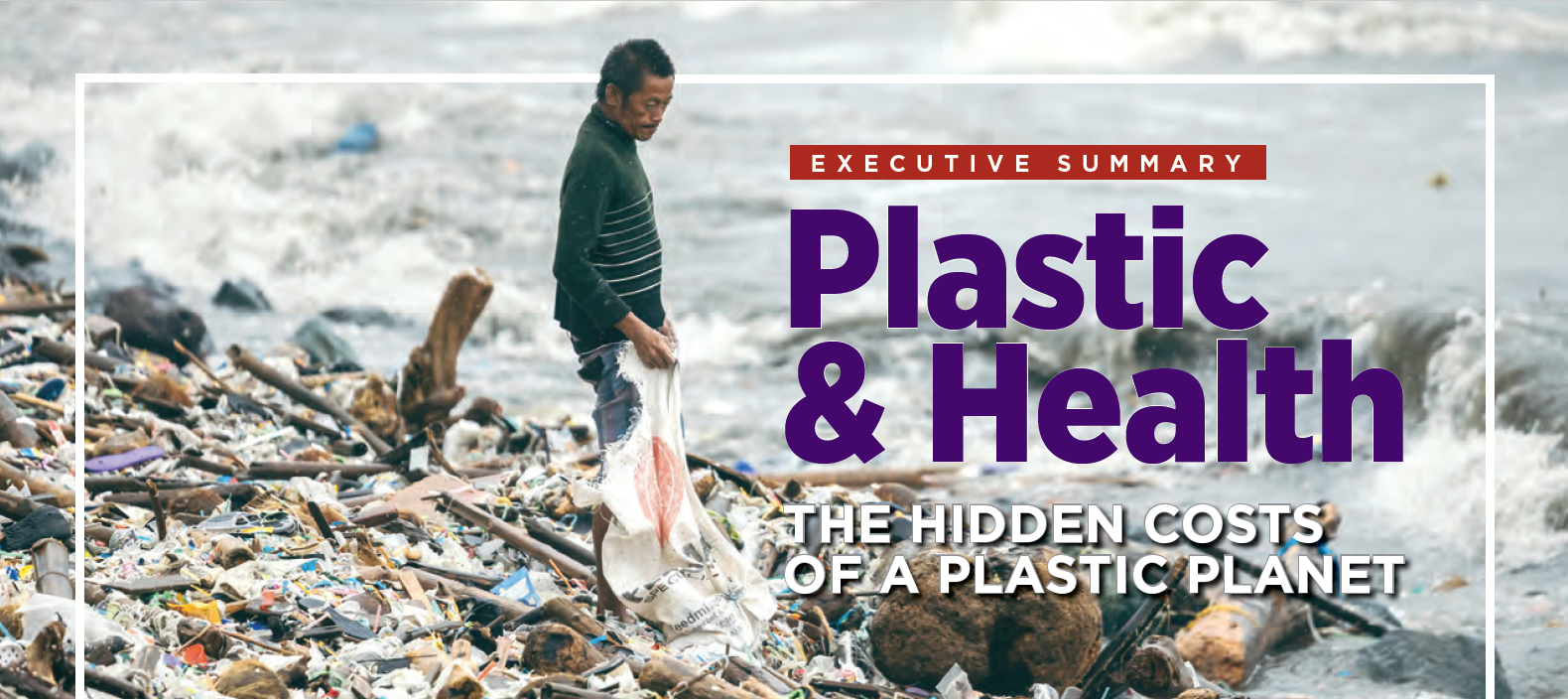 "Overall, the lifecycle impacts of plastic paint an unequivocally toxic picture: plastic threatens human health on a global scale."
Plastic is a pollutant of unique concern: long lasting and persistent, as every single piece of plastic ever produced is still on the planet, polluting our soils, water, and air while carrying toxic impacts throughout its lifecycle. Yet, as the world is coming to realize the dangers of plastic pollution on the environment and take action to prevent it, the impact of this ubiquitous material on human health is still poorly studied and understood.
To tackle this problem and to provide a full assessment of the impacts of plastic on human health, the Center for International Environmental Law (CIEL) released an extensive report that investigates the disparate toxic risks arising from the production, use, and disposal of plastic.
The report, carried out in collaboration with GAIA and Break Free From Plastic among other partners, shows that plastic-related risks to human health arise from both exposures to plastic particles themselves and associated chemicals. While previous researches had focused only on specific products or manufacturing processes, this first-of-its-kind study clearly reveals that plastic poses serious health risks at every stage of its lifecycle, being at the core of an urgent human health crisis on a global scale!
Accordingly, to tackle the direct and environmental exposure of human body to plastics, the report adopts a full lifecycle approach considering each stage of plastic production, use, and disposal such as extraction and transport of fossil fuels, refining and production, consumer use and packaging, and waste processing. The report also highlights that, once plastic reaches the environment in the form of macro or micro plastics, it contaminates and accumulates in food chains through agricultural soils, terrestrial and aquatic food chains, and the water supply, creating new opportunities for human exposure.  
For each of the mentioned stages, the report documents the numerous routes through which human health is impacted, detailing the physical effect of ingesting, inhaling, and touching plastic as well as the toxic chemicals associated with it  (just a few examples are cancer, neurotoxicity, reproductive and developmental problems or impairment of the respiratory, nervous, and immune systems). Moreover, the report highlights uncertainties and the lack of knowledge among consumers, communities, and policymakers in making informed decisions about plastic use and production.
The findings are conclusive!
Despite the limited data available and the complexity of the plastic lifecycle, the results of the report are clear: the health impacts of plastic throughout its lifecycle are overwhelming. Many actions and solutions are urgently needed on a global level to confront this threat to human life.
"The health risks of the plastic pollution crisis have been ignored for far too long and must be at the forefront of all decisions on plastics moving forward. Corporations and governments are risking our health to maintain the status quo and keep profits flowing. It's not just our oceans and marine animals that are suffering from this addiction to plastics, it's all of us. While there is still much to learn about all of the impacts of plastics on human health, we know enough to adopt a precautionary principle and start to phase out these throwaway plastics for good."
Graham Forbes, Greenpeace Global Plastics Project Leader
Indeed, the study suggests adopting a holistic approach to reduce toxic exposure to plastic.
This approach should treat plastic exposure as a human rights issue, centralizing the entire plastic chain, supporting the reduction in the production and use of plastic, drafting national and international regulations that require transparency about what goes into plastics during all stages of production. It also requires to ensure that yet more and increasingly complex environmental problems are not created in the attempt to address this one.
In this scenario, the European Union has an outstanding political opportunity to tackle and possibly reduce the impacts of plastics on human health through more consistent regulatory measures. As part of the EU plastic strategy, the EU has stated its intentions to completely remove the hazardous substances from plastic products by 2025. However, as clearly analysed in the CIEL's report, steps in this direction should not be limited at the production phase but they must consider the full lifecycle of plastic, ensuring transparency and traceability of substances that might be toxic or hamper circularity at all stages.  
Overall, an effective solution starts with tackling plastic pollution at source, by reducing the production, use, and disposal of plastics and associated toxic chemicals worldwide.
Download the full report here.
Resources:
Report: Plastic and Health: The hidden costs of a plastic planet .
The report is the results of joint efforts by the Center for International Environmental Law (CIEL), Earthworks, Global Alliance for Incinerator Alternatives (GAIA), Healthy Babies Bright Futures (HBBF), IPEN, Texas Environmental Justice Advocacy Services (t.e.j.a.s.), University of Exeter, UPSTREAM and BFFP.  The report was released in February 2019.  
Cover image and graphics: © Les Stone/Greenpeace  and David Gerratt/ © CIEL/NonprofitDesign.com