Arts, fashion and zero waste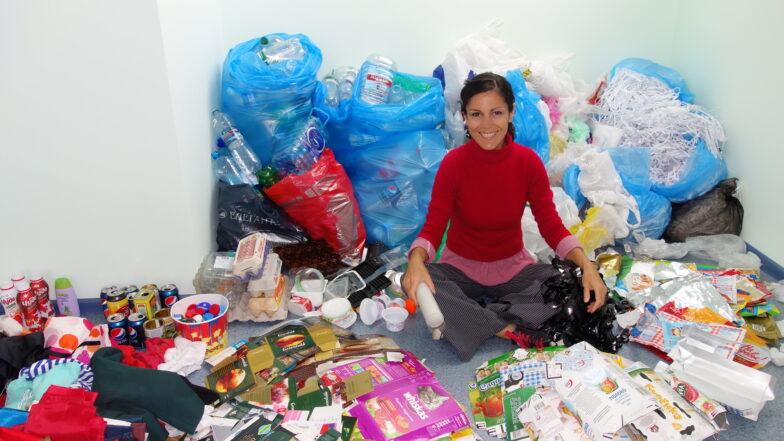 The world of arts and fashion maintains a very stimulating dialogue with the world of waste. Artists, eco-designers, and handcrafts professionals have found in waste materials a source of inspiration, a thrilling challenge to their creativity and even a conceptual pillar to build a whole new vision of arts, fashion and sustainability.
Likewise, redesign and substantial doses of creativity are key ingredients in our path to zero waste. This is both to Redesign all those specifically problematic, toxic, non-recyclable/non-reusable items, but also to Redesign our economy so that we can Reduce the size of our waste-bin, Reuse as much as possible and Recycle what is left. The R to Redesign waste out of the system has indeed been recognized as paramount within the zero waste world.
Katell Gelebart is an example of this wave of artists looking at waste as a treasure. A French independent, Katell is an eco-designer using arts and fashion to raise awareness about waste.
"My creations are born in different cultural environments around the globe, with whatever waste and unwanted material there is already there that can act as a social trigger to inspire and raise awareness amongst communities in their social and environmental choices", says Katell.
Katell founded her workshop, shop and brand Art d'Eco & Design in Amsterdam in 1998 in a groundbreaking initiative in the world of ecodesign. Passionate about waste and giving a new lifecycle to any material, she is a pioneer in developing design articles from unwanted and waste materials: stationery, fashion accessories, women garment, toys, and home furnishing. In 2012, Gelebart was awarded the Kairos Prize for her special contribution to European culture, rewarding her "creative vision to revisit what's already there".
Apart from her redesign work in her Amsterdam base, Katell has been sharing her current knowledge on upcycling, recycling and ecodesign in lectures and presentations in various fashion institutes and design academies, as well as in primary and high schools. In short, her philosophy and vision around creativity and sustainability is introducing many different audiences into what she calls New Thinking for New Times.
Perhaps one of the most exciting experiences for the creative minds is her ecodesign workshops, in which participants experience a "hands on material" time. Participants themselves collect the waste and raw materials in their local environment, and learn to transform them with crafts techniques and low-tech means. Essentially, the workshop guides participants to explore the potential of any material to be given a second life, transforming it to another design item with the minimal intervention.
Gelebart's current main concerns focus on big fashion company's corporate responsibility. "According to Hasmik Matevosyan in her book Paradigm shift in Fashion, the production of a clothes collection wastes up to 30% of the textile materials, which will never be retailed," says Katell. "This seems to me like a huge amount of raw material wasted that it has been processed for nothing."
Gelebart is thriving to pursue a dialogue on this issue and support organizations and companies in rethinking their production systems to achieve zero waste. In other words, lots of residual waste items are waiting out there to be on Karell's hands and be transformed into beautiful and useful solutions. Redesign, arts and creativity may be indeed, one of the most mind-blowing responses to our wasteful, throw-away society. Nothing less than lots of fun and truly sustainable change for us and the future generations.

Karell Gelebart's upcoming book Trash is Treasure: ecodesign and conscious living will be published shortly.